Lively Summer Festivals Spell Fun Across Indiana's Cool North
Posted on May 2, 2018 by Dina Miller
Psssst….our secret is out! Indiana's Cool North is THE PLACE TO BE if you love to celebrate with pure, old-fashioned enjoyment. And we celebrate just about anything imaginable in wonderful spots where you're welcomed like an old friend.
Our iconic festivals were never a secret for local visionaries who decided years ago to fete everything from bountiful blueberry crops and legendary popcorn to fine Amish creations and funky art. The events grew, adding music, dancing, food and games in locations that ranged from lush riverside parks to lively downtowns. And the word got out.
Before we knew it, Chicagoans anxious to get out of city, weary toll road travelers looking for a break on long summer drives, and just about anyone else who heard about our tremendously fun festivals, put Northern Indiana at the top of their list.
Whatever your pleasure, we've got a festival just made for you. Celebrate good times…c'mon!
Here's a "best of the fests" guide to Northern Indiana this summer:
The Annual Amish Acres Arts & Crafts Festival, Nappanee, Ind.
When: August 1 - 4, 2019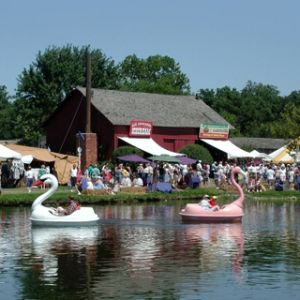 Start in the Marketplace surrounding the Amish Acres farm pond, where you'll find more than 300 artisans and crafters displaying and selling their work. Four stages provide musical entertainment throughout the weekend, offering up a folksy alternative to Lollapalooza, which will be taking place in Chicago at the same time. And don't forget the food. Homemade baked goods and tantalizing sandwiches will tempt and tame your appetite as you work your way through a true slice of Americana.
Shipshewana Antique Festival, Shipshewana, Ind
When: August 3, 2019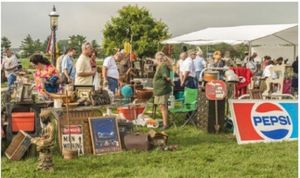 Bring the family and find a treasure at the Shipshewana Antique Festival. Shop quality dealers at this Shipshewana Antique show who set up selling antiques, jewelry, vintage items, collectibles, furniture, up-cycled products, glassware, and toys, and more! There is also delicious food, entertainment and door prizes! Other Antique Festival events include an antique telephone show, a classic car cruise-in, a swap meet and a steam & gas show.
The Great Lakes Super Boat Grand Prix, Michigan City, Ind.
When: August 1-4, 2019
Speed + water + big boat = Are you kidding me?
Let's forget about the pastoral, acoustic Indiana experience for a second and focus on something really loud, like large boats roaring across Lake Michigan.
The perfect marriage of speed and strength will be on display at the Great Lakes Grand Prix, as some of the largest and most powerful race boats in the world speed across the southernmost tip of Lake Michigan for what is anticipated to be an exciting race. The fun kicks off on Thursday,  with a ribbon-cutting ceremony in Washington Park, and then continues the next day with the First Friday Art Walk & Taste of Michigan City. Saturday offers a parade and block party and the fun culminates on Sunday with the big race.
Art Beat, South Bend, Ind.
When: August 2019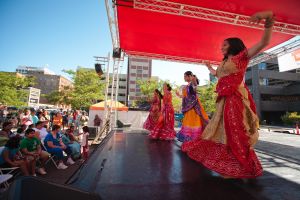 An explosion of art in all forms and styles erupts in downtown South Bend during the annual Art Beat celebration, where the beat definitely goes on….and on and on! The community's ode to all things creative celebrates artists displaying their inspired works, dancers whirling onstage, chefs showing off gastronomic wonders, and plenty of kid fun too. The free event takes place from 11 a.m. to 7 p.m. Saturday, August 18.
Marshall County Blueberry Festival, Plymouth, Ind.
When: Labor Day Weekend
The annual Blueberry Festival is set for Labor Day weekend, and you can be sure that Centennial Park will be the place to be for all things blueberry, including concerts, food, carnival rides, crafts, fireworks and more. The schedule of events offers a summer's worth of fun, all in one weekend. Go ahead and pay homage to the berry that seems to have made its way off of the pancake and out of the muffin, and into the hearts and stomachs of health-minded individuals everywhere, thanks to its high level of antioxidants. Oh, forget the antioxidants and grab some blueberry ice cream. You'll have time to work it off walking through the festival.
The Valparaiso Popcorn Festival, Valparaiso, Ind.
When: September 7, 2019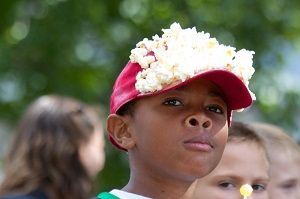 Somewhere, Orville Redenbacher is smiling. The Indiana native and Purdue University graduate must be proud to see the Popcorn Festival celebrating another year. And he no doubt gets a kick out of seeing the games, the five-mile run, the Cutest Baby contest, the Hot Wheels race, the food booths, the arts and crafts exhibitors and the parade thrive in this community that has embraced its role in producing the snack that is as American as it gets.