A century of progress
By the turn of the 20th century, the Indiana Dunes area was far from an isolated frontier. Five decades of mass migration and the arrival of industry, thanks to the railroad, ushered in a century of progress. Quintessential small towns such as Chesterton, Porter, and Valparaiso dotted the landscape. Expanding infrastructure and industry attracted many to the region, including numerous immigrants from Ireland, Germany, and Sweden. Today, the Porter County Museum in Valparaiso and the Westchester Township History Museum in Chesterton both boast living history that chronicles life in the region through settlement, The Civil War, Great Depression, WWI, and WWII. Each highlights notable local families from various periods and artifacts donated by residents through the years. While there, I really enjoyed learning about the history of the natural Dunes, the attempts to preserve them, and the marketing campaigns designed to make them a vacation destination. And Ill always vividly remember rounding the corner of the Porter County Museum to unexpectedly find an enormous mastodon skull on display. The skull was discovered and dug up by a local farmer in 1949 and makes for a dramatic exhibit.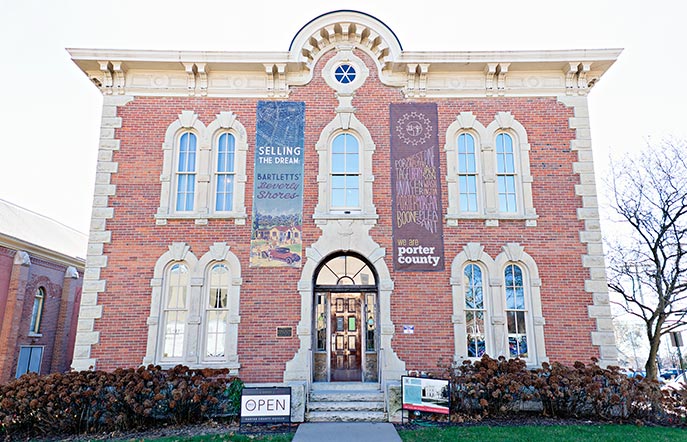 While the railroads brought prosperous industry to the region, these same industries threatened to ruin its unique and gorgeous ecology. The Indiana Dunes National Lakeshore was not formally created until 1966. But efforts to save the Dunes began in 1896 with Henry Cowles, a botanist from the University of Chicago. That was the year Henry first visited the Indiana Dunes and became captivated with its distinct ecology. Cowless efforts to study and preserve the Dunes ushered in almost a century of struggle between industry and preservation.
The steel mills and power plants might have threatened the local ecology, but they did not dissuade the tourists who had recently discovered the area. Thanks to the new South Shore Line (a modern commuter train that still operates today), built by Chicago tycoon Samuel Insull, elegant mahogany railcars ferried passengers along the shoreline in style. Insull also commissioned colorful posters, ads, and maps to lure Chicagoans to the lakeshore on weekends. And it worked; by the 1920s the Indiana Dunes were full of tourists enjoying water sports, beaches, and nature trails.