Winter Fun 2021 in Indiana's Cool North
Posted on October 6, 2020 by Dina Miller
Indiana's Cool North definitely lives up to its name in winter. The region is full of awesome activities and events that embrace this snowy season, and are the perfect cure for winter blues. Whether you're into dashing through the snow, dropping a line on frozen lake, or savoring sweet treats courtesy of Mother Nature, winter around here is a real wonderland. Check out some of our suggestions for fun winter activities in Northern Indiana.
It's the Most Wonderful Time for a Beer
Where: Goshen
When: Winter 2021
View this post on Instagram
You might not think "outdoor dining" when you think of winter in Northern Indiana—but you definitely should! The Goshen Brewing Company is offering igloo dining.  Many other breweries in the area continue to offer their brews.  Check out our brewery tour of Northern Indiana here.
Lace Up Your Skates
Where: Downtown Elkhart, Elkhart County
When: December to February, 2021
A splash pad during warmer months, in winter the NIBCO Water and Ice Park transforms into a winding skate path perfect for an afternoon or evening skate next to the Elkhart River. Travel along the beautiful skate path with your family, or go for a more traditional skate on the adjacent rink. Skates of all sizes are available to rent, and once you've finished, you can warm up at a number of downtown restaurants and coffee shops.
Slide and Ski Under the Stars
Where: St. Patrick's County Park, South Bend
When: January 3, 10, 17, 24, 31, 2020
Embrace the tranquil beauty of St. Patrick's County Park with an evening of cross-county skiing. Take a leisurely glide (or really go for it) along candle-lit trails and keep an eye out for all sorts of animal tracks. No skis? No problem? Affordable rentals are available at the park. Innertubing is also available.
Cross Country Ski the Dunes
There are so many great places to ski in the dunes including Love Creek in Berrien Springs, Glenwood Dunes Trail off of 20 (Indiana Dunes National Park), and Stoney Run County Park in Hebron. Love Creek and Stoney Run both rent skis, but call ahead to make sure the trails are open!
Get Out and Go Geocaching
Where: Indiana Dunes State Park, Chesterton
When: Winter 2021
View this post on Instagram
Bundle up and bring your GPS unit to Indiana Dunes State Park. This outdoor scavenger hunt showcases the beauty and history of the park, and highlights some of its most unique sites and features. Get geochaching details here.   Still haven't gotten your adventure fix? Try the famous 3 Dune Challenge—on snowshoes!
Fish on a Frozen Lake
Where: Lake Wawasee, Kosciusko County
When: January and February, 2021
We're all about lake life in Indiana's Cool North—and that doesn't change come winter. Ice fishing (or hardwater fishing) is a popular pastime in Kosciusko County, and Lake Wawasee is one of the best spots in the state. At over 3,000 acres, it's the largest natural lake in Indiana, and is home to many varieties of fish. Common catches are bass, crappie, pike, panfish, and walleye. The smaller bays and channels freeze before the main portion of the lake, so there's ample time to cast your line. If you're looking to really get away from it all, make a weekend of it with a stay at Oakwood Resort.
Pajama Day is the New (and Comfier) Black Friday
Where: Shipshewana, LaGrange County
When: February 6, 2021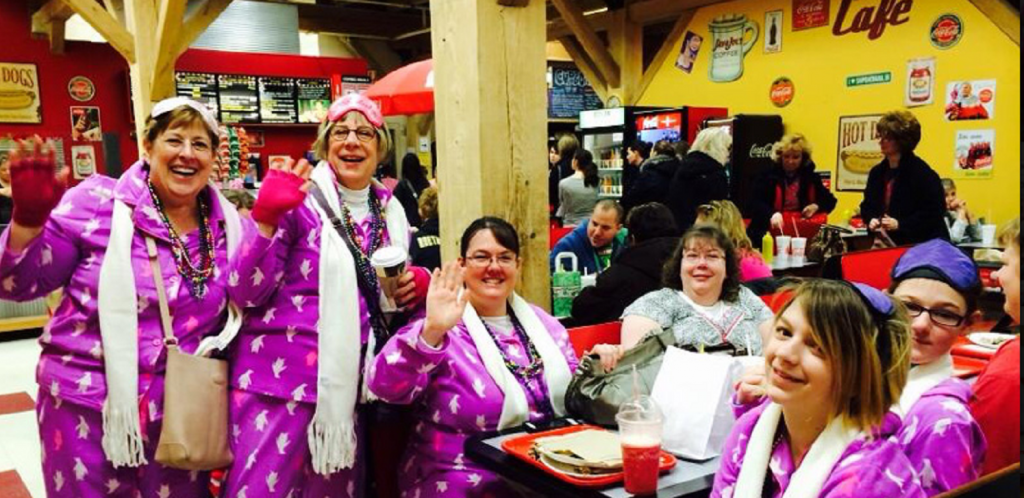 Ever had one of those days when you wished you could leave the house in your PJs? This February 6 in Shipshewana, it's not only acceptable—it's encouraged! During the Pajama Day Sale, local businesses open around 6 a.m., offering big deals and discounts and shoppers arrive dressed in their best and coziest pajamas. Add in a few free snacks and cool giveaways, and you've got a full day of fun in store, plus it's a great opportunity to get a (really) early start on next year's holiday shopping.
A New 16,000 Square Foot Ice Trail
Where: Howard Park, South Bend
When: Winter 2021
View this post on Instagram

A premier winter destination in South Bend opened in 2020. The Howard Park ice trail features rolling hills and soft curves as you skate around the loop. There is also an ice pond for traditional skating. Reservations must be made online. Warm up with hot chocolate at The South Bend Chocolate Café to Go stand.
Disc Golf all Winter?
Where: Baugo Ferrettie Park and George Wilson Park
View this post on Instagram
Yes, you can disc golf this winter!  Baugo Ferrettie Park and George Wilson Park are open year round (as well as other courses in the region).  Many winter days the weather is suitable for bringing out your discs. Dress appropriately and come practice your shots.  Both parks also have tubing for when the snow makes the disc golf game more difficult!
Will we be seeing you this winter in Indiana's Cool North? Check out even more incredible things to see and do in Northern Indiana here.