Antique Stores in Pierceton
Posted on December 20, 2012 by Indiana's Cool North

Pierceton bills itself as the "antique town," because it boasts a number of antique stores. But I think it's also a good description for the old-time hometown experience Pierceton offers to visitors along First Street.
Make your first stop the Blue Pearl; owner David Taylor serves as a sort of unofficial concierge of Pierceton so can tell you everything you want to know about the town. The store specializes in Indiana/Hoosier salon artwork, 18th-century to contemporary furnishings, and vintage jewelry. We found pretties including a vintage daisy-decorated hat (just $10) to an exquisite cabochon bracelet for $26,000 (gulp!).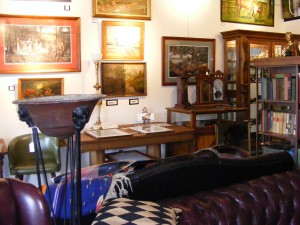 In addition to fine antique stores such as Sydow's and the Village Antique Gallerie, we found another fascinating spot: Jas. Townsend and Sons. This is where Ben Franklin would shop if he were alive. It's full of reproduction period costumes, weaponry and home items sought out by reenactors and movie houses. We learned that Johnny Depp wore items from the store in the Pirates of the Caribbean movies.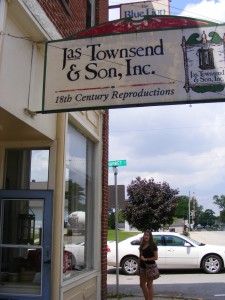 Looking for something to complete your DIY project or for that eclectic mix for your home?   A Slice of Hevin is your place!  You might find vintage vinyl, old signs or screen doors!  If you want repurposed or refurbished furniture, be sure to stop in at Kelsea Designs.  She can help with paint projects in your home, or she might have just what you are looking for in her shop.
Where best to eat in an antiques town, but an antique restaurant! Just a stone's throw from First Street, Old Train Depot—housed in a circa-1867 train depot—is a charming restaurant, bar and banquet facility with a nostalgic vibe. Owned by Patricia Knott, the brick depot was built by the Pennsylvania Railroad, but these days it's your ticket to fun dining. You can belly up to the handcrafted bar for a local beer, or take a seat by the fireplace or in the family dining room for salads, sandwiches and pasta. After all the shopping, The Odd Fellow Cafe and Coffee is a great place to regenerate with pie and coffee.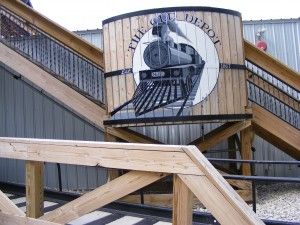 All those antique stores in Pierceton within several blocks and drinks in an old depot make it a great place to step back in time!