A Day at Winona Lake Feels Like a Vacation
Posted on October 15, 2017 by Indiana's Cool North

With a free day midweek, I treat myself to a mini road trip. Cruising Highway-30 flanked by golden cornfields, I tune into Warsaw's classic hits on WRSW (107.3 FM) and enjoy the ride. By time I turn into The Village at Winona, I'm in full-on vacation mode.
Set on Winona Lake, the village is a cluster of attractions conceived almost 20 years ago by the Winona Restoration Company. The company even brought in some of the Craftsman-style buildings from neighboring towns.
It's a charming walkable community with quaint shops, artisans, eateries and opportunities to enjoy the outdoors. Located in the Village's only garage shop, Belove is a gift shop offering handcrafted jewelry, pottery, and a curated selection of goods and vintage finds. We are 'A Give Back Gift Shop'; ten percent of every purchase is given to clean water projects, orphan care, or to aid in the fight against human trafficking. In addition to our own locally handcrafted goods, we also carry other brands that have a heart for making a global impact.
Around the corner, Sacs and Company sells handmade soap, shampoo, lotion and candles in an adorable bungalow with a screen porch. Sacs is the brainchild of two sisters, and I find sister Laurie Isle on-site, unmolding soaps in the sunshine. The sisters do demonstrations and teach classes on making candles and soap upstairs.
Steps away, I find the bright Pottery Bayou, where people paint pottery seven days a week. There are galleries, a spa, an old-fashioned barbershop and a bike shop (The Trailhouse with reasonable day rentals). Ride the more than 3 miles of paved bike trails (and even more unpaved). I love that I find all of the shop owners on-site.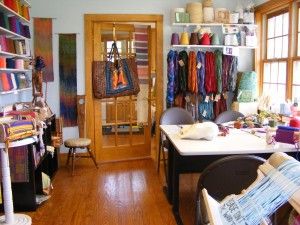 When it's time to eat, I was equally delighted. Cerulean (the color of the sky) is an enchanting cedar-sided restaurant with waterfront views. I enjoy some of the best sushi of my life.  Visit Light Rail Village Café for food that features locally sourced ingredients & coffee that comes directly from the farmers that grow the beans.
As I leave the village—full of food and inspiration—I discover The Chestnut, a charming B&B on the hill. On my next visit, I'll create a little weekend midweek!
Kim Ranegar is a freelance writer from Valparaiso who is always up for a road trip.