The Game at Blue Chip Kicks Off Winning New Menu of Game-day Favorites
Posted on September 12, 2013 by Indiana's Cool North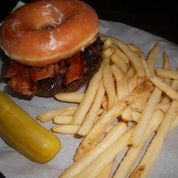 Sure, you can watch the game at any sports bar in town. But when it comes to that vital element of any game-day ritual, the food, one Michigan City destination goes above and beyond the offerings at your average pub.
Since it's opening in 2009, The Game, Blue Chip Casino's sports-themed restaurant, has served up an ambitious menu that successfully balances comfort food with more sophisticated fare. Recently, the food has gotten even better with an expanded menu that debuted on Sept. 1, just in time for the fall sports season. The new menu is packed with appetizers, soups, salads, hand-tossed pizzas, build-your-own mac and cheese, specialty sandwiches, gourmet burgers and hot dogs, house specialty entrees and desserts.
The new items were created by Chef Erik Keever and Executive Chef Patrick Higgins. Their menu is based, in part, on customer and staff feedback, and includes the freshest ingredients possible. Many dishes are prepared from scratch. "We make our own pizza dough right here," Keever says.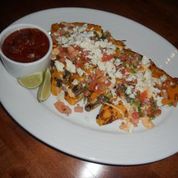 Just like a sports fan's appetite for different sports, the delicious menu items offer a diverse range of choices. Standouts in the appetizer lineup include Frickles, house-made pickle chips with Dijon aioli sauce; Loaded Nachos with house-made fire-roasted salsa and cilantro lime sour cream and Smoked Brisket Chili with Cornbread, house-made 15-hour hardwood-smoked brisket loaded with spices in hearty southwest gravy.
When it comes to the burgers, no decadence is spared. The Doughnut is a fresh – never frozen – angus beef patty between two glazed doughnuts with bacon and a maple glaze, and the PB&J is a fresh angus beef patty, peanut butter, bacon jam, bacon and fried pickles.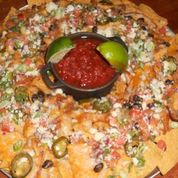 In addition to custom pizzas, mac and cheese fans can enjoy a Mac and Cheese Pizza, Cavatappi pasta with a creamy four-cheese sauce and applewood-smoked bacon, or a Buffalo Chicken Pizza, with crispy chicken, bleu and mozzarella cheese, wing sauce and bleu cheese dressing.
Other menu items specialties sure to become crowd pleasers are Fried Chicken and Waffle, with a double-battered chicken breast, waffle, egg, bacon, Tabasco honey glaze and maple syrup and Cajun Fish and Chips, with corn flour-breaded catfish, house-made Cajun remoulade and fries.
Prices are moderate, ranging from an average of $8 for shareable appetizers, to $12 for pizzas, $10 for 10-ounce gourmet burgers and house specialty entrees that average about $12.
Naturally, the Game features an extensive selection of beers, wines and cocktails, including seasonal beer selections from area microbreweries.
The Game is open from 4 to 9 pm Monday and Tuesday, from 4 to 10 pm Wednesday and Thursday, from 4 to 11 pm on Friday, from noon to 11 pm on Saturday and from noon to 9 pm on Sunday. (All times are Central Standard Time.)
Learn more about The Game menus and special promotions, and follow Blue Chip Casino, Hotel & Spa on Facebook.