Top 10 Things to Do That are Ready When You Are
Posted on June 9, 2020 by Dina Miller
Our Top 15 lists showcase the many unique and eclectic things to do in Indiana's Cool North.  However, in the current COVID-19 world, not everything is open or the safest choice for your situation.  We have searched through our Top 15 lists and pulled together ten things to do that may be right for now or in the very near future.  Most are outdoor, some completely on your own in your car, and others are for smaller groups in safer settings that may be open now or will be soon.  We encourage you to follow current guidelines for face masks, hand washing and social distancing.  We know you are ready to get out and explore, and we have safe, close, and affordable options in northern Indiana.  The original tried and true Top 15 lists will remain for when the time is right!  Things change rapidly, so be sure to check with the individual websites or business before finalizing your plans.
Ride the Biking Trails - Explore Indiana's Cool North at a Slower Pace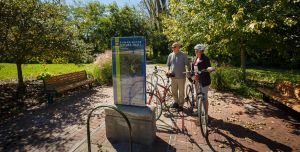 There's nothing quite like that freedom you feel pedaling new terrain. And the summer of 2020 is a good time to explore those trails! Wind in your face, sun on your back, and your bike taking you on adventures just down the road. With the abundance of awesome bike trails in Indiana's Cool North, it's no wonder so many visitors can't resist the lure of those pathways that lead to shady forests, mysterious marshlands, friendly towns and Amish communities. You'll find many of the trails are open to a host of other activities, including hiking, walking, in-line skating, and cross-country skiing. Several are also handicap-accessible.