Top 15 Outstanding Things to Do
Posted on April 17, 2017 by Indiana's Cool North
Want to make the most of your precious vacation time when you travel to Indiana's Cool North? Check out our top 15 things to do that are anything but ordinary. Of course this is just a sampling of all the awesome attractions and activities our region has to offer. What will you discover when you visit us?
Ride the Biking Trails - Explore Indiana's Cool North at a Slower Pace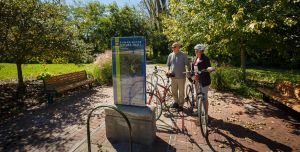 There's nothing quite like that freedom you feel pedaling new terrain. And the summer of 2020 is a good time to explore those trails! Wind in your face, sun on your back, and your bike taking you on adventures just down the road. With the abundance of awesome bike trails in Indiana's Cool North, it's no wonder so many visitors can't resist the lure of those pathways that lead to shady forests, mysterious marshlands, friendly towns and Amish communities. You'll find many of the trails are open to a host of other activities, including hiking, walking, in-line skating, and cross-country skiing. Several are also handicap-accessible.