The Best Burger in Indiana's Cool North
Posted on March 1, 2018 by Dina Miller
We searched for the best burger in Indiana's Cool North.  The locals selected the participants, and The Becky Burger at The View Tavern in South Bend was voted best burger; but they had serious competition from  other burgers in the region.  We know, because we tried them all!
The Winner: The View Tavern, South Bend
The View has been a South Bend establishment since 1954. The menu offers a wide variety of burgers, Including a build-your-own option with over a dozen toppings to choose from. The Becky Burger has American and Swiss cheeses, BBQ sauce, grilled onion and bacon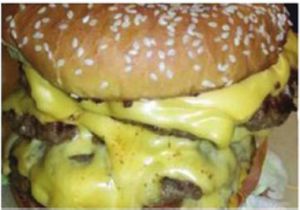 The Flippin' Cow, Elkhart
The Flippin Cow Is known for its steak burgers. 'Two of the most popular being The Cheesy Uncle (flavored with smoked bacon AND Mac·n·Cheese) and the Hangover (topped with smoked bacon, eggs and potatoes). But the odds-on favorite Is the Stella Moo. It starts with a double steak burger "hand-pattied" then stacked with smoked brisket, smoked bacon, melted pepper Jack cheese, onion straws and alehouse BBQ sauce slid Into a toasted wheat brioche bun. Fun Fact: You can get here by car or boat • it's on the shores of Simonton Lake.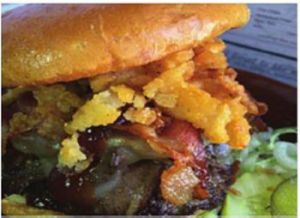 Shoreline Brewery, Michigan City
Shoreline Brewery's Grecian Lamb Burger draws its Inspiration from from the rustic and simple flavors of the classic sandwich we all love. Domestic Ground Lamb Is seasoned with fresh garlic, oregano and Mediterranean flavors before being seared in cast iron. Finished with Imported feta, baby arugula, dill tzatziki sauce, shaved cucumber, tomato, and red onion on a hearth baked roll. Conveniently located across from Lighthouse Place Premium Outlets. Award· winning, hand-crafted, fresh beers abound.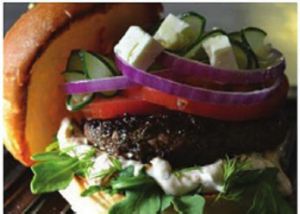 Octave Grill, Chesterton
Octave Grill has been serving up our original brand of gourmet burgers since 2010. Our 12 distinct burgers are all made with grass-fed and hormone-free beef, and then topped with our unique sauces and ingredients. While our main focus is on the burgers, we also have homemade desserts, an always· changing craft beer selection and awesome sides to accompany our sandwiches. We are an eclectic destination, from our space and menu, to our regular customers, and even down to our salt and pepper shakers.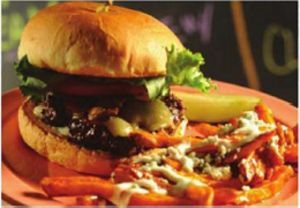 Riegling's Copper Top
Bite into the BIG CopperTop Burger, a mouth-watering 8 oz fresh black angus patty with fried pickles, crispy onion ring, bacon jam, lettuce, tomato, cheddar and bistro sauce.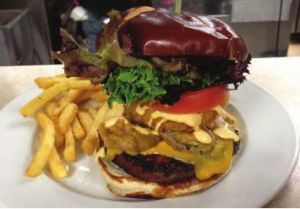 Lakehouse Grille
The Lakehouse Grille is Culver's favorite restaurant and bar for friends and families to meet for any occasion.  Enjoy a family outing or business dinner in this informal dining atmosphere.  The lake is in full view from dining areas giving it the feel of a coastal, laid-back environment.  While you sit back and enjoy the view why not treat yourself to a delicious Hawaiian Burger!  Maybe even enjoy a drink in the bar area with its various seating options as well.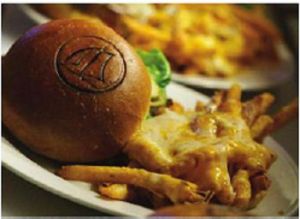 Franklin House, Valparaiso
All of the burgers served at Franklin House are special. Every one of them is cut as lean as possible from whole loins and ground in house, although this burger is just a tad more important. Peanut butter, bacon, Swiss cheese, mayonnaise, and a sunny-side up egg on German pretzel bun. It may seem perplexing, but I assure you that it makes perfect sense. You can trust me, I'm a 157 year-old building.