Shop Amish Goods in Northern Indiana
Posted on May 15, 2017 by Indiana's Cool North
Pack your wish list, because there's a whole lot of shopping to be done in Indiana's Cool North. A region rich Amish heritage, some of the best shopping is located in the unique Amish stores and boutiques located across our seven counties. Shop for freshly baked goods, traditional souvenirs and handcrafted furniture. Bargain hunters will want to check out the lively flea markets and huge indoor marketplaces. Ready to get your shop on? Let's go!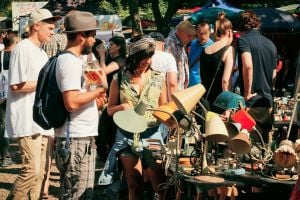 Flea Market Finds in Shipshewana
A bustling Amish community with shop-lined streets, Shipshewana is home to the largest flea market in the Midwest! Every Tuesday and Wednesday from May 1st through September, shoppers flock to the Shipshewana Flea Market from across the globe to browse Amish goods, and search for unique handmade items, baked goods, antiques and more. If you're lucky, you might even catch a horse-drawn buggy clopping through town. How's that for an authentic Amish experience? Discover more here.
Explore the Back Road Shingle Shops of LaGrange County
Amble along the Amish back roads and you'll recognize the charming shops of LaGrange County by the signs (or shingles) that announce their wares: cabinetry, baked goods, candles, honey, quilts, jams, candy, and more. Housed on Amish farmsteads, most goods are produced without the use of electricity. Follow your nose to the scent of baking breads and pies, sample honey directly from the hive, or take home a piece of finely crafted Amish furniture. Explore the back roads for yourself, here.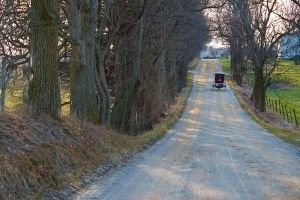 Shop The Heritage Trail
Voted a USA Today Readers' Choice and named one of America's "Most Scenic Drives", this winding journey will take you past welcoming communities, local attractions, and give you a glimpse into Amish life. Discover an Amish furniture shop tucked away on a rural road—a local secret ready to be uncovered. Browse the city gallery for one-of-a-kind handmade jewelry, and purchase quality Amish flour at the 150-year-old Bonneyville Mill. You've never experienced a road trip quite like this. Learn about The Heritage Trail here.
Find the Perfect Souvenir at Amish Acres
Time seems to stand still at Amish Acres, a place where traditions are held sacred and celebrated to this day. Amish Acres' unique shops are teeming with hand-crafted goods from homemade goodies to antique treasures. Visit The Bakery for a slice of authentic Shoofly pie and a dozen ooey-gooey chocolate chip cookies. Next, head to The Greeting Barn where knickknacks and souvenirs abound. Finally, no visit to Amish Acres is complete without a visit to the Log Cabin Soda Shop & Fudgery where the antique marble soda fountain offers up a variety of delicious treats from sodas, malts, and ice cream. Hungry for more? You'll find it here.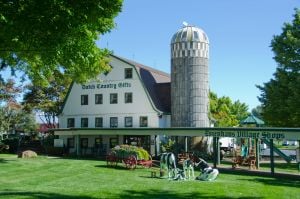 The Village Shops of Middlebury, Indiana
Visit Middlebury and browse seven unique Village Shops, each housed in an original Amish farm outbuilding. Immerse yourself in the Amish culture with a visit to The Quilt Shop, home to locally handcrafted quilts and crafts sure to compliment any home décor. Pick up some Amish peanut butter and homemade rolls for the road at the Bakery, and grab the perfect souvenir of your time in Indiana's Cool North at The Corn Crib. All that and more awaits in Middlebury. Find it here.
Are you ready to shop 'til you drop? Great! But you'll need fuel to keep you going. Discover our Top 15 Exceptional Eats in Northern Indiana, here.