Fantastic Places to See Fall Foliage in Indiana's Cool North
Posted on July 1, 2023 by Indiana's Cool North
Sure, summer's over, but the season changing means you're one step closer to one of nature's most stunning scenes: fall foliage!
Some consider fall the most pleasant—and most beautiful—time of year. Days aren't too hot or cold, the evenings are crisp, and nature hits reset. Look in any direction in Indiana's Cool North for a fantastic view of greenery changing to a dramatic collage of reds, oranges, yellows, and browns.
The best part? You're surrounded by fall foliage while traveling from place to place, so every journey can be as intriguing as the destination. With any outdoor activity having the perfect backdrop, here's some inspiration to get you started.
Note: If you're looking for maximum color intensity, fall foliage colors usually peak in Indiana's Cool North during the first two weeks of October.
The Heritage Trail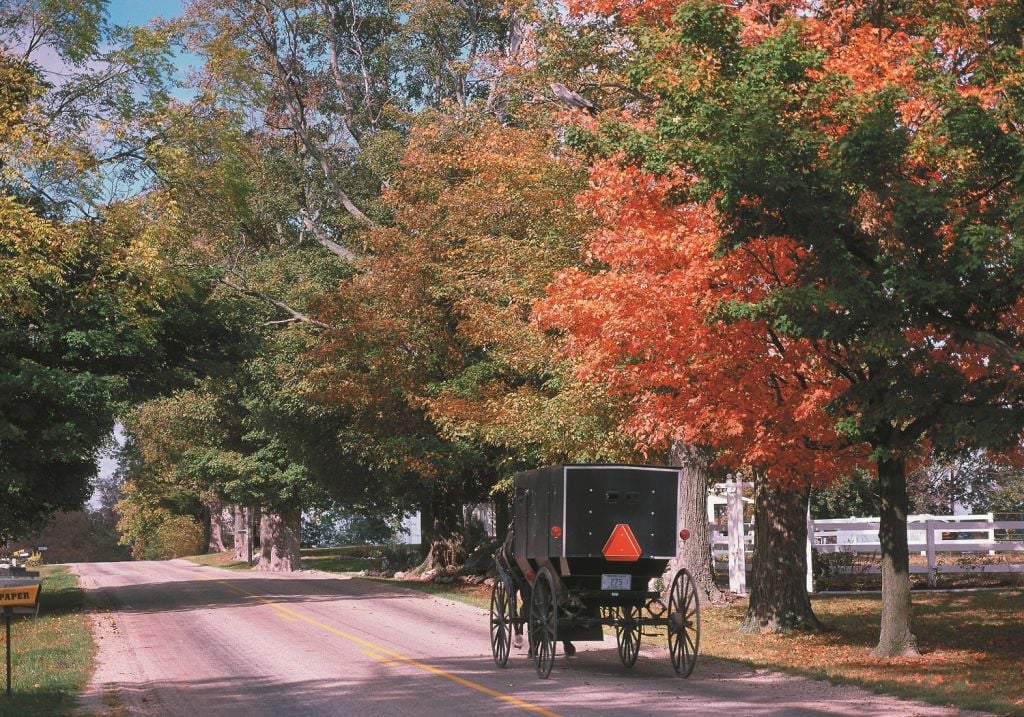 Follow the Heritage Trail: With the help of a free audio guide—complete with intriguing historical tidbits—you easily can devote a day to this 90-mile route discovering the region's rich, diverse heritage.   This scenic winding loop takes you through the vibrant communities of Elkhart, Goshen, Middlebury, Nappanee, Bristol, Wakarusa and Shipshewana.
It's safe, easy to explore, easy on your budget and in addition to the fall foliage, you're sure to discover fun at every turn.
Indiana Dunes Country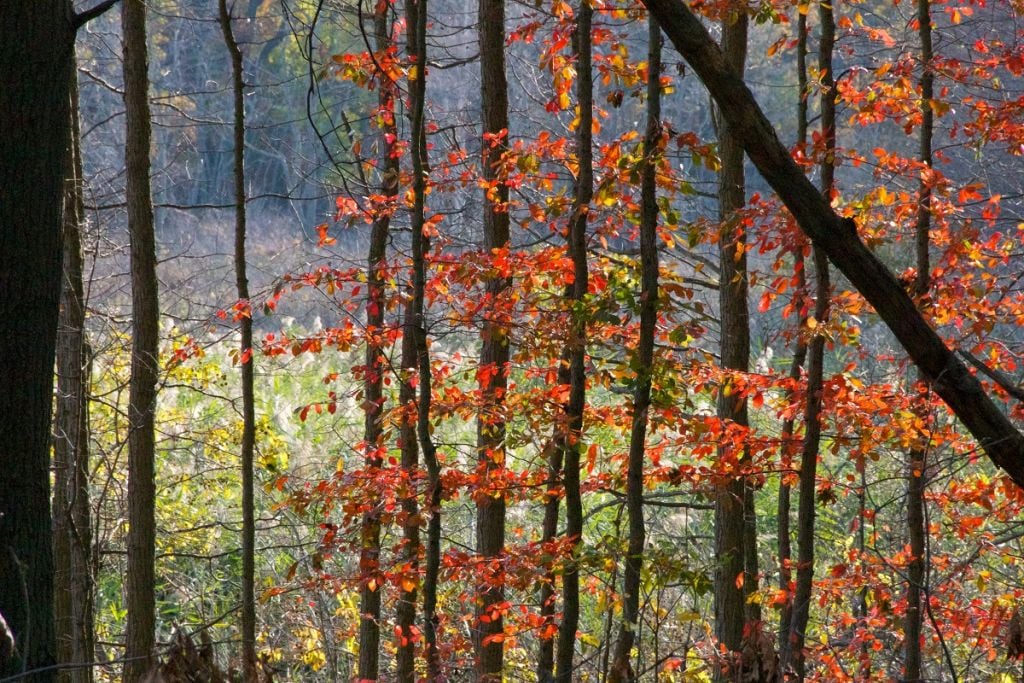 Visit Indiana Dunes Country.   The livin' is easy, fall or anytime, in Dunes Country, which anchor the Great Lake's southern tip and are home to one of the nation's best-loved natural treasures – the Indiana Dunes National Park.
Indiana Dunes Country is the place to be for stunning fall drives and hikes through forests of red, yellow and orange.
Walk, Run, or Pedal the Pumpkinvine Nature Trail
If you're looking for one of the best paths in Indiana's Cool North (and one of the best ways to see fall foliage and the countryside), you can walk, run, or cycle one of the many trails in Elkhart County, including the Pumpkinvine Nature Trail.
Elkhart, Goshen, Middlebury and Shipshewana are connected by three trails spanning 25 miles: MapleHeart Trail, Wilden Avenue Trail and Pumpkinvine Nature Trail. The longest, and one of the most popular portions, is Pumpkinvine, a beautifully maintained and almost entirely paved path that weaves from Shipshewana to Middlebury and Goshen.
As you walk or roll along you'll be treated to sprawling farmland with Amish homesteads, livestock, fall horse team harvests underway, shaded pathways, and ample birdwatching opportunities. Download the full Pumpkinvine Nature Trail guide and access several other walking and biking maps and guides in Elkhart County.
Take Family and Friends to Garwood Orchard
Gather for a day exploring the fertile fields of Indiana's Cool North at Garwood Orchards in LaPorte. The farm has been in the same family for over six generations and 180 years, and spans more than 400 acres—roughly half fruit orchards (apple, peach and cherry) and half vegetables. Here you'll enjoy amazing (and affordable) country fall fun at its finest surrounded by beautiful foliage.
Fall u-pick options include apples (11 varieties) and pumpkins, and you can arrive in the orchard or patch in style on a horse or tractor-drawn wagon. Kids will love the miniature pony rides, and on fall weekends you'll also be entertained by free live music. Refuel after a day on the farm with a delicious country meal at the Garwood Grille, then wash it down with a cider slushy or sweet gelato while you browse the bake shoppe for fresh pies, muffins, cookies, turnovers, and more.
Garwood Orchard's annual Apple Fest runs through September, where you can find great homemade crafts, art, jewelry, produce, exciting live music, and much more.
Potato Creek State Park
View this post on Instagram
When you're in a nearly 4,000-acre state park in Indiana's Cool North, you're going to have some excellent fall foliage vantage points. Potato Creek State Park is one of the best destinations for hiking, paved path and trail biking, picnicking, horseback riding, fishing, and camping. And while it's popular year-round—especially in the summer—Potato Creek really comes to life in the fall.
You'll find vibrant leaves changing color throughout the park's diverse terrain, including fields, woodlands, restored prairies and wetlands. Each offers endless opportunities for observing wildlife and the beautiful scenery nature offers explorers in autumn.
Bike the Oak Savannah Bike Trail
View this post on Instagram
The Oak Savannah Bike Trail is a rail trail forming a connection between multiple cities and other rail trails. It originates from the Oak Ridge Prairie County Park in Griffith, with its western trailhead, and spans across Lake George as it proceeds towards Hobart.
Now that you're acquainted with some of the most fantastic places for fall foliage experiences in Indiana's Cool North, go check them out! Find even more exciting things to do—all while surrounded by vivid fall colors, of course—here.