The Top 5 Things to Do in Indiana Dunes
Posted on February 1, 2023 by Indiana's Cool North
There's something special about Indiana Dunes, part of Indiana's Cool North, that draws people from all over the world. From the scenic shores of Lake Michigan to the eclectic energy of downtown Valparaiso, there's something here for everybody. With such a relaxed atmosphere, you'll love making your way through Indiana Dunes Country to take everything in. But with so much to see and do, where should you begin?
Visit Indiana Dunes National Park & State Park
In addition to being home to Indiana Dunes National Park (our newest national park), the area is also home to Indiana Dunes State Park, more than three miles of beaches located along Lake Michigan. It is also where you can complete the Three Dune Challenge. This unique experience challenges you and your fellow travelers to hike Mt. Holden, Mt. Jackson, and Mt. Tom—the three tallest dunes on the southern shore of Lake Michigan. Open all year, this is a challenge you can complete in sneakers—or even barefoot—in the summer, and in snowshoes during the winter. Before you begin the challenge, be sure to stop in at the Indiana Dunes Visitor Center to learn more about the area and the unique animals that call it home.
Enjoy an Unforgettable Meal at Local Restaurants

Indiana Dunes Country is a fantastic place to check out the culinary delights of Indiana's Cool North. You'll find a meal for every taste here.  If BBQ is your thing, Wagner's Ribs is the place to go!  Locals voted on the restaurants they love, so you can check out their top date night restaurants, or their outdoor dining.
Take in a Show

Indiana Dunes is a perfect spot for taking in world-class entertainment. Stop by the Memorial Opera House in Valparaiso to see a Broadway show, live comedy, touring bands, and more! Built in 1893, the Memorial Opera House is on the National Register of Historic Places and seamlessly blends old-school architecture and charm with modern entertainment you can't miss.
Alternatively, if you're a film buff, you'll love stopping by the 49er Drive-In Theatre. Named one of the Top Ten Drive-Ins in USA Today, the 49er shows a wide-assortment of modern blockbusters and classics of the silver screen from April-October every year. Pack the car, hit the concession stand, and marvel at this drive-in that maintains its 1950s aesthetic. Enjoy the show!
Sample the Brews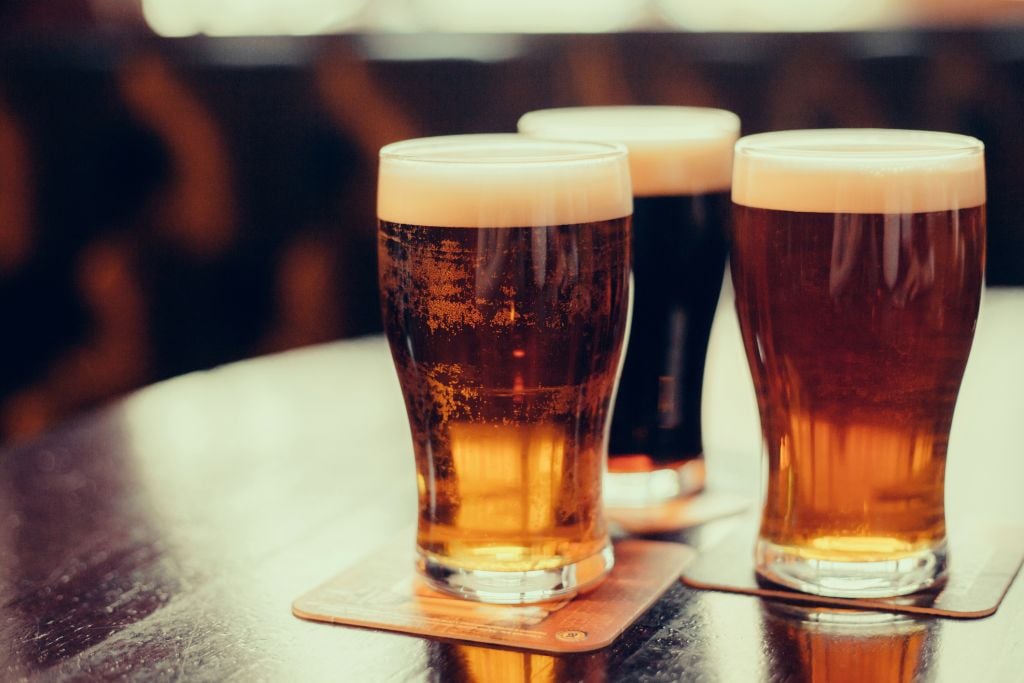 Indiana Dunes is home to a vibrant craft brew and winery scene that you don't want to miss. If you read our Brewery Tour of Northern Indiana, you know that Indiana Dunes (and all Indiana's Cool North for that matter) is home to several brewpubs, including Four Fathers Brewing, Hunter's Brewing, and Ironwood Brewing Company. These breweries are great spots to gather and laugh with friends while enjoying the best local beers that Indiana Dunes has to offer. If wine is more your thing, you'll want to try the Misbeehavin' Meads—where you'll have a chance to try a glass (or two) of honey wine.
Learn Something New on a Tour or in a Museum

For those who love learning, there are great museums and informative tours to discover in Indiana Dunes Country. If you're interested in the history of the Indiana Dunes, you'll want to take a trip to the Porter County Museum or the PoCo Muse, as it is called locally.  Situated in the former sheriff's residence and local jail, the museum is home to a large collection of local history and treasures. The exhibits are updated regularly, so there's always something new to discover.  For fans of art and architecture, the Beverly Shores Depot Museum & Art Gallery is a must-visit. This pink stucco museum showcases the interesting architectural history of Beverly Shores, and the art gallery houses a rotating collection of wonderful pieces created by local artists.
With so much to do in Indiana Dunes, this list only scratches the surface. You can learn more about the exciting things to do in Indiana Dunes and throughout Indiana's Cool North here.