Weekend Escape Series: Amish Adventures
Posted on July 12, 2022 by Indiana's Cool North
Horse-drawn buggies, handcrafted quilts and furniture, hearty homemade food—there's no shortage of highlights that showcase Amish life in Elkhart and LaGrange Counties. The area is home to the nation's second-largest Amish population, so it's easy to fill an entire weekend with all that this engaging culture has to offer. We've created an itinerary that will deliver an immersive Amish adventure, ideal for your next weekend getaway.
Day One: Shipshewana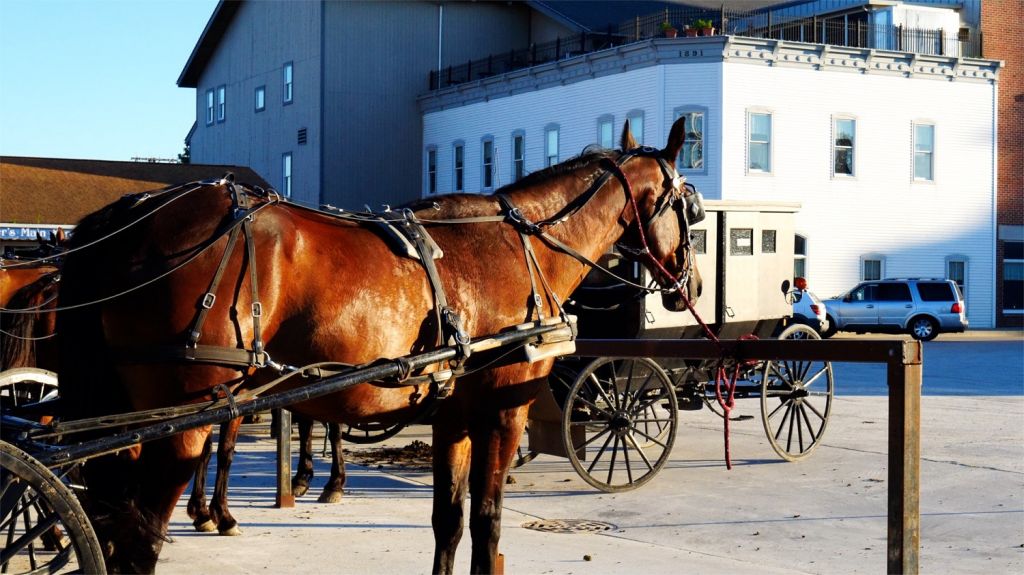 Play
Get an Amish immersion at Menno-Hof: Menno-Hof Interpretive Center is the perfect place to start your adventure in Amish country. Life-size dioramas and interactive exhibits tell the story of the region's Amish and Mennonite culture. Explore a 17th century sailing ship, and replicas of 19th century Amish buildings including a print shop, meeting house and a family home.
Get your shop on: With over 100 shops in Shipshewana, any shopaholic can easily be satisfied. You'll find Amish goods aplenty at Yoder's Red Barn Shoppes, or search out smaller specialty stores such as Ole Tin Rooster antiques and Kathy McClanahan's Oil Painting Studio.
Take a buggy ride: Several companies in Shipshewana offer authentic Amish buggy rides. Take a tour around town (and plan out your shopping excursion), then head out into the charming countryside for a leisurely ride past Amish shops, schools and homesteads.
Catch a show: Performances by top entertainers and an Amish-themed musical make the Blue Gate Theatre a must-visit.
Stay
The Blue Gate Garden Inn, Shipshewana. Enjoy a stay at the newest hotel in town, offering full breakfast, an indoor pool, and family suites. You can also purchase ticket packages for thrilling Broadway-style shows and the Blue Gate Theatre.
Farmstead Inn & Conference Center, Shipshewana: Modeled after a traditional Amish farmstead, this country-style hotel is steps away from the Shipshewana Trading Place Auction & Flea Market. Rustic red barn views and modern amenities create the ideal blend of old and new.
Essenhaus Inn and Conference Center, Middlebury: Searching for a quiet country escape? It's here at the Essenhaus Inn. Take in the area's iconic quilt gardens from a balcony suite, and enjoy a deluxe continental breakfast served up with the signature warm hospitality of Das Dutchman Essenhaus.
Dine
JoJo's Pretzels, Shipshewana: Is there anything better than freshly made pretzels? Stop in at the shop located in the Davis Mercantile for a special treat and a drink with old fashioned flavorings. Don't forget to grab some pretzels for the road or to take back to your hotel.
Blue Gate Restaurant & Bakery, Shipshewana: We're back at Blue Gate again! Settle in for from-scratch Amish favorites served family-style, from the buffet, or off the menu. Fried chicken and roast beef are popular among locals, and you'll have your choice from over 25 kinds of pie for dessert.
Rise n' Roll Bakery & Deli, Middlebury: You can't go too far in Amish country without coming across a delicious bakery. Stop in at Rise n' Roll for a free coffee, some tasty samples, and a freshly made box lunch to fuel your road trip through Indiana's Cool North.
Das Dutchman Essenhaus, Middlebury: The small town of Middlebury is home to Indiana's largest restaurant. It's got over 1,100 sets, but that doesn't mean they skimp on quality. Savor traditional Amish fare created using authentic family recipes.
Amish Family Dining: Visitors take away a true Amish experience that they'll talk about for years to come when they take advantage of the bountiful dinners prepared by Amish families in their homes. Not only is the food amazing, but so is the hospitality. The experience gives you a chance to converse directly with Amish people and learn their stories. Visitors rave about the fried chicken, Swiss steak, noodles and fabulous rolls.
Day Two: Middlebury and the Countryside
Play
Explore the Shingle Shops: Shingle shops are small businesses on Amish homesteads identified by a sign or "shingle". They pop up along back roads throughout the area and offer all kinds of Amish handcrafts, quilts, and food at businesses such as Owl Toy Craft and "B" Honey.
Follow the Heritage Trail: With the help of a free audio guide—complete with intriguing historical tidbits—you easily can devote a day to this 90-mile route discovering the region's rich, diverse heritage.
See beautiful quilt gardens in bloom: Some 20 huge garden plots planted with thousands of blooms in quilt designs pop up throughout the region from May 30 to September 15 on the Quilt Gardens along the Heritage Trail. Along the way you'll also find large quilt murals painted on roadside barns.
Day Three: Nappanee

Play
The Barns at Nappanee: In the town of Nappanee, about an hour southwest of Shipshewana, this living history destination celebrates authentic Amish culture. Tour the farmstead, take a horse-drawn wagon ride, shop handcrafted goods, and take in a show at…
Round Barn Theatre at The Barns at Nappanee: This unique venue in a vintage reconstructed barn features various stage productions.
Discover the shoppes: Once home to the "Hoosier Cabinet" factory for Coppes Kitchen Cabinets, today Coppes Commons is a sprawling shopping complex. Both elegant and industrial, it's an incredible place to learn a little about local history, and shop for furniture, handmade leather goods, Amish crafts, and much more.  Visit the Neighbors Mercantile Co. to discover unique and nostalgic finds at the newest place to shop in Nappanee.
Dine
The Barns FarmTable at The Barns at Nappanee: Dine under hand-hewn timbers in a massive reconstructed 1870's barn.
Main Street Roasters: There's nothing like a fresh brewed cup of coffee at this corner coffee shop where they roast their own coffee. Feel welcomed in a large, comfortable atmosphere that includes small and large dining tables, lounge areas, a library,  and more. The Amish often gather here along with the "English" for breakfast and lunch.
There's a lot more to see and do in these two counties than you can fit in to one weekend, but this should give you a great starting point for creating your own Amish adventure in Indiana's Cool North. If you'll be visiting Amish country on a Sunday, it's best to check ahead as businesses and attractions may be closed. For more attractions in Northern Indiana click here.