Weekend Escape Series: Shops and Shores
Posted on February 1, 2019 by Dina Miller
Watery adventures and one-of-a kind shopping happily co-mingle in Kosciusko County, home of several shoreside communities and Indiana's largest natural lake. You can immerse yourself in swimming and fishing all day long, search for antiques and modern-day finds, and top it off with an evening of live theater. LaGrange County just to the northeast, adds another dimension to your getaway with homegrown surprises and a touch of the Amish. We've created an itinerary that fills your weekend with outdoor activity, browsing and buying, and plenty of spots for quiet relaxation.
Day One:   Winona Lake, Pierceton and Warsaw
In a drive of less than 20 miles, shoppers experience three communities with succinctly different flavors, each one of them treasure troves for everything that might be on your list and so much more! Then relax for a great dinner and head out for a theater performance.
Play
Discover Classy Glass and Purposeful Jewelry: The vibrant county seat community of Warsaw harbors a couple of unique finds you won't want to miss. The Warsaw Cut Glass Company, founded in 1911, features goblets, pitchers, platters and bowls, all in gleaming hand-cut crystal. On most weekends, you can watch the glasscutters work their magic.  MudLOVE products are skillfully crafted from clay by our passionate team of artisans. Every product, from bands to mugs, that you purchase provides one week of safe, clean water to someone in need in the Central African Republic.
Visit the Village of Winona: Just a couple miles away, this thriving arts community along the Winona Lake shore is a dream for shoppers looking for one-of-a-kind finds. Galleries, studios, shops and trendy restaurants fill charmingly restored workmen's homes. The village also hosts several music festival during the year.
Go antiquing in Pierceton: The small town on Pierceton, just a few miles southeast of Winona Lake, is a haven for antique and art lovers alike. You'll find vintage furniture, clothing, glass, jewelry and other heirlooms, along with modern-day landscapes, pottery, sculpture and photography. Don't miss a stop at the Blue Pearl Gallery, which specializes in Hoosier artists, as well as vintage finds.
 Catch a show: The award-winning Wagon Wheel Center for the Arts in Warsaw features Broadway-quality theatrical productions in an intimate threater-in-the-round setting, plus concerts and performances by well-known entertainers.
Stay
The Blue Heron Guest House, Winona Lake:  This breathtaking inn along the shores of Winona Lake resembles an Italian villa and features luxurious rooms and gourmet breakfasts. Several romantic packages are available.
Brooke Pointe Resort, Syracuse: Close to Lake Wawasee and Syracuse Lake, this 30-room inn features an indoor pool, suites with whirlpools, and 12 miles of trails on the grounds.
Dine
The Cerulean Restaurant, Winona Lake: Gleaming wood floors and artwork add flair to this upscale yet relaxed restaurant which features creative meat and seafood entrees, sushi and specialty drinks.  
BoatHouse Restaurant, Winona Lake:  A lovely view of Winona Lake accompanies surf 'n' turf, pastas and other New American dishes served at this contemporary lakeside eatery & bar.
The Old Train Depot, Pierceton:  Fill up on pizza, pasta, salads, soups or sandwiches along with a micro-brew at this restored 1867 depot by the railroad tracks.
Day Two:   Syracuse, North Webster, Howe and LaGrange
Lakes define the Kosciusko communities of Syracuse and North Webster, where people who love swimming, fishing and boating have been coming for generations for a weekend in and on the water or a longer vacation stay. Just to the northeast, you'll get a chance to meet the Amish farmers who bring their goods each week to a couple of longtime markets in the small towns of Howe and LaGrange.
Play
Hit the Lakes:  You can easily spend a whole weekend (or a week!) swimming, fishing, boating or just lounging on the beach at one of Kosciusko County's many lakes. Lake Wawasee (Indiana's largest natural lake), Syracuse Lake, Webster Lake, and Tippecanoe Lake draw swimmers to their sandy beaches, anglers who fish for muskie and other catches out on the water, plus waterskiers and sailboaters. Several marinas offer rentals, and family-friendly resorts give plenty of options for short and long stays.
Shop the Farmers Markets:  LaGrange County is known as the No. 1 organic growing area in Indiana, so Saturday morning farmers markets in the communities of LaGrange and Howe, just six miles apart, offer a great chance to meet friendly Amish farmers. Stock up on their fresh produce, delicious baked goods, finely finished woodcrafts, quilts and more.
Shop Syracuse: Whether you're in the market for art or eats, the Syracuse Artisan and Farmer's Market has you covered each Saturday. Flowers, plants and seasonal vegetables are all available, along with handcrafted wares produced by local artisans, with everything from quilts and purses to hand-blown glass and paintings. And while you're in town, stop by The Water Lily Art Gallery, selling the works of local artists, including many lake-inspired paintings of the area.
Meet the Bison: The couple who own Cook's Bison Ranch near Wolcottville have a passion for raising these noble animals and love to share the legendary history with you. Meet the bison up close on guided wagon rides. The ranch store sells healthy bison meat and other bison-related products.
Dine
The Channel Marker, Syracuse: Visitors arrive by boat as well as car to dine at this relaxed restaurant known for great food, with everything from lobster cakes to burgers. It's located on a beautiful channel that connects Lake Wawasee and Lake Syracuse.
Crossroads Cafe and Soda Shop: A hidden gem in Amish Country in the back of the Topeka Pharmacy.  Crossroads Cafe, offers daily specials in the small town of Topeka.
Stay
Oakwood Resort, Syracuse: This upscale resort on Lake Wawasee offers hotel rooms, cabins, vacation homes, a restaurant, and numerous amenities, including a salon and spa.
Day Three: Mongo, Webster Lake and Warsaw
The third day of this itinerary might be called "Water and Walking" because it gives you plenty of both.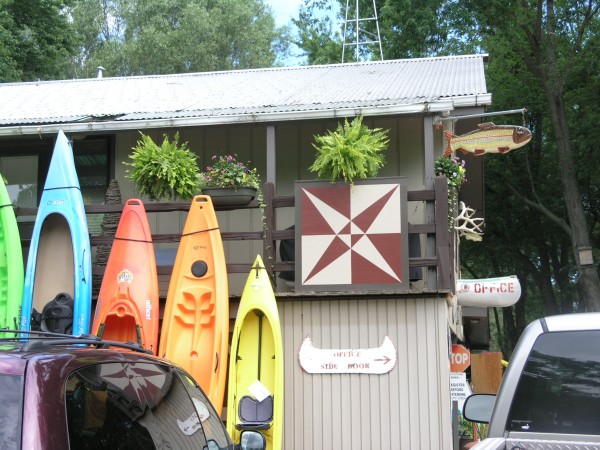 Play
Kayak or Canoe: Clear, gentle rivers draw kayakers and canoers for easy-going paddles that often include wildlife sightings.  Come enjoy the scenic Fawn River the way the Potawatomi Indians did!  Local outfitters will set you up with all the gear you need to float down the river.
Ride the Dixie: Take a 75-minute cruise on Webster Lake aboard Indiana's oldest sternwheeler for a little history, lots of music and loads of fun. Built in 1929, the Dixie passes several spots of historical interest, including the site of the Yellow Banks Hotel, where the Capone gang reputedly stayed.
Visit the Gardens: Roam a peaceful setting at the Warsaw Biblical Gardens, which contain over 100 plants that are named in the Bible.
Dine
Mi Lindo Acapulco, Warsaw:  Fresh and authentic Mexican food in a popular restaurant that serves breakfast all day.
Mad Anthony Brewing Co, Warsaw: Enjoy your pizza and brews in historic downtown Warsaw.
There's a lot more to see and do in these two counties than you can fit in to one weekend, but this should give you a great starting point for creating your own Shops and Shores adventure in Indiana's Cool North.