Breakfast Wars: Locals choose top restaurants
Posted on March 28, 2018 by Dina Miller
We encourage you to support our restaurants in Indiana's Cool North during the COVID-19 outbreak; but please call ahead to individual restaurants to see if they are open and ready to serve you with carry-out or curbside service.
After almost a month of fierce local and regional competition, Northside Diner of Porter County was voted the region's champion of breakfast!
Thousands of votes were cast during two rounds of competition, to select the top breakfast restaurants in Indiana's Cool North.   Breakfast Wars showcased the great locally owned restaurants throughout the region.  The locals have spoken; check out their top choices and decide on your favorite.  We challenge you to try them all!
Northside Diner
WINNER!
100 N. Calumet Road, Chesterton
Porter County Breakfast Wars Winner
Welcome to Northside Diner. You'll know you're in good company when you see the satisfied celebrities always hanging out on the mural out front. Step inside for a playful family atmosphere and a plateful of breakfast favorites anytime, any day. Just a few quarters in the jukebox and a few minutes to look over the menu, and you're guaranteed that classic diner experience you won't soon forget!
Northside Diner is named "Best Breakfast in Indiana's Cool North" thanks to its family-friendly atmosphere, its excellent service and its delicious variety of breakfast favorites.
Hours: 6 am – 3 pm daily
The Golden Egg Pancake House
305 N Nappanee St, Elkhart
Elkhart County Breakfast Wars Winner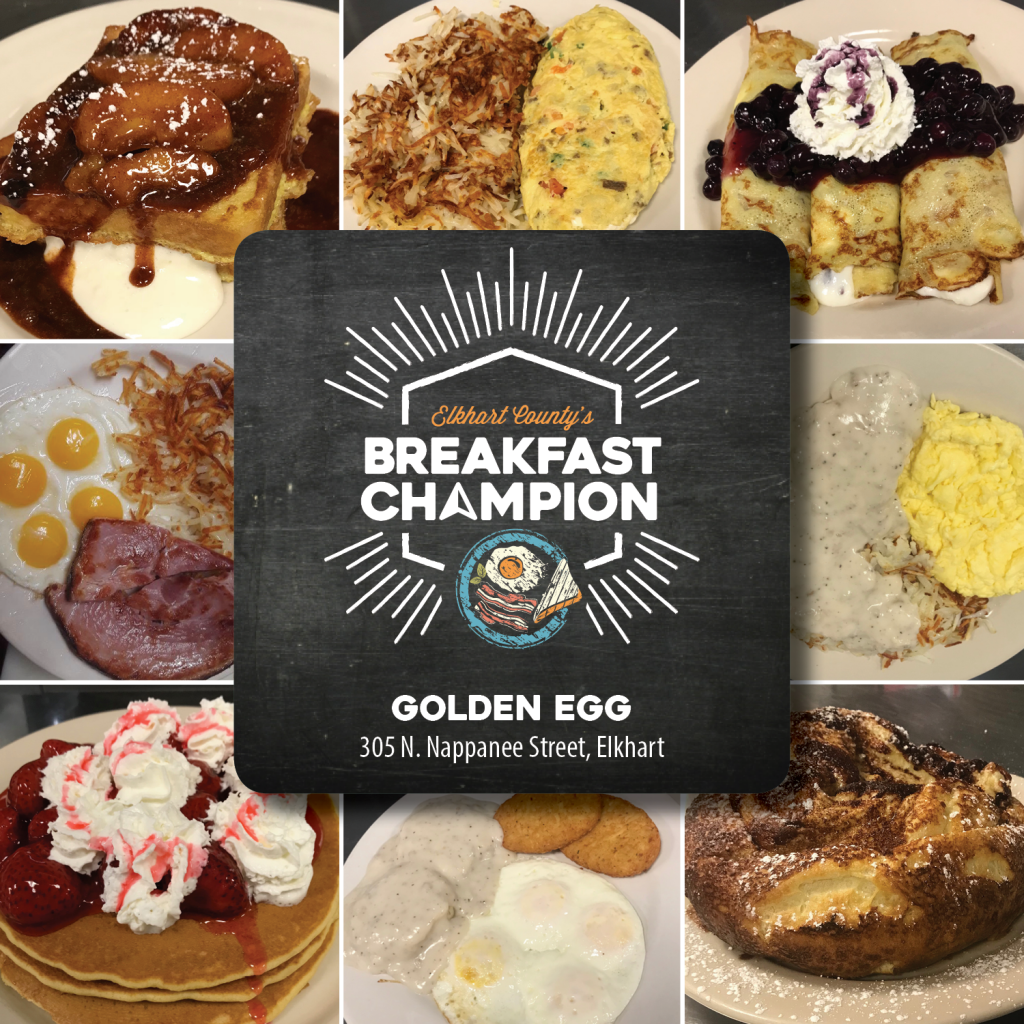 Can you say omelet? The garbage omelet is a local favorite at The Golden Egg Pancake House and the loaded hash browns won't disappoint.
Hours: 6:00 am – 2:00 pm daily
Jennie Rae's Restaurant
5201 E US Hwy 20, Rolling Prairie
LaPorte County Breakfast Wars Winner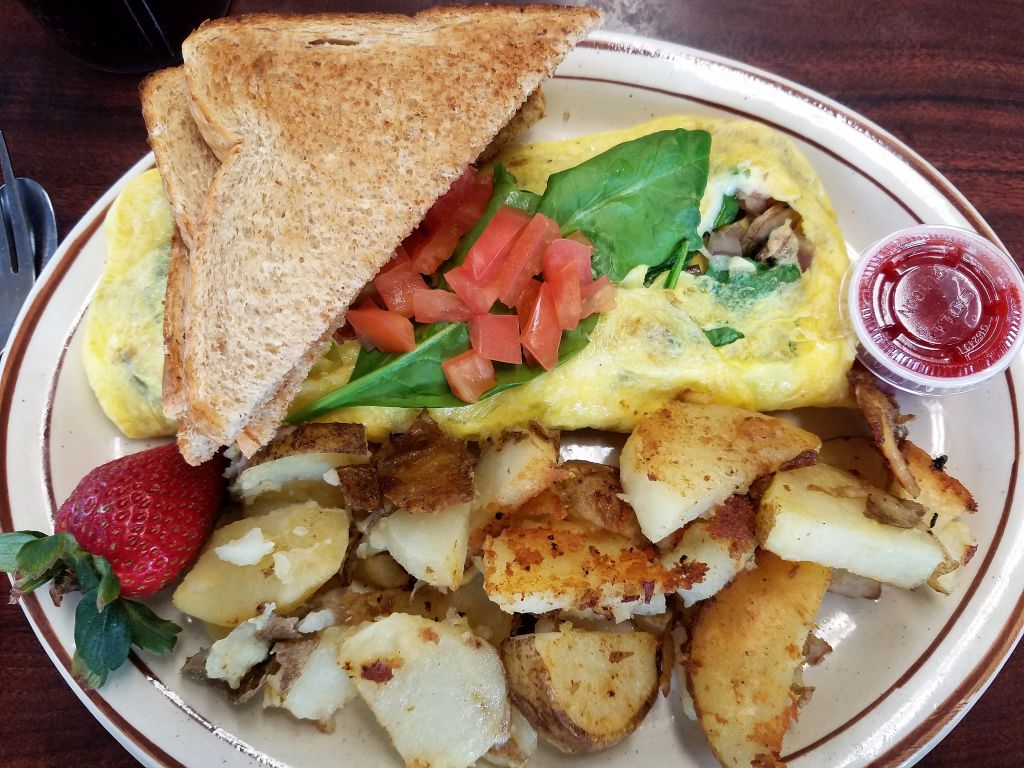 Homemade cooking from scratch. Daily breakfast, lunch and dinner specials are served at Jennie Rae's. Homemade soups and jams. Wonderful pies. Serving your favorite beers and wines. Friday fish fry, all you can eat. Slow roasted prime rib. Located inside the former Bob's Drive Inn along the Lincoln Highway.
Hours: Sun-Thurs 5:30am-2pm; Fri & Sat 5:30am-8pm
Macadoo's Family Restaurant
2108 Lincolnway E., Mishawaka
St Joseph County Breakfast Wars Winner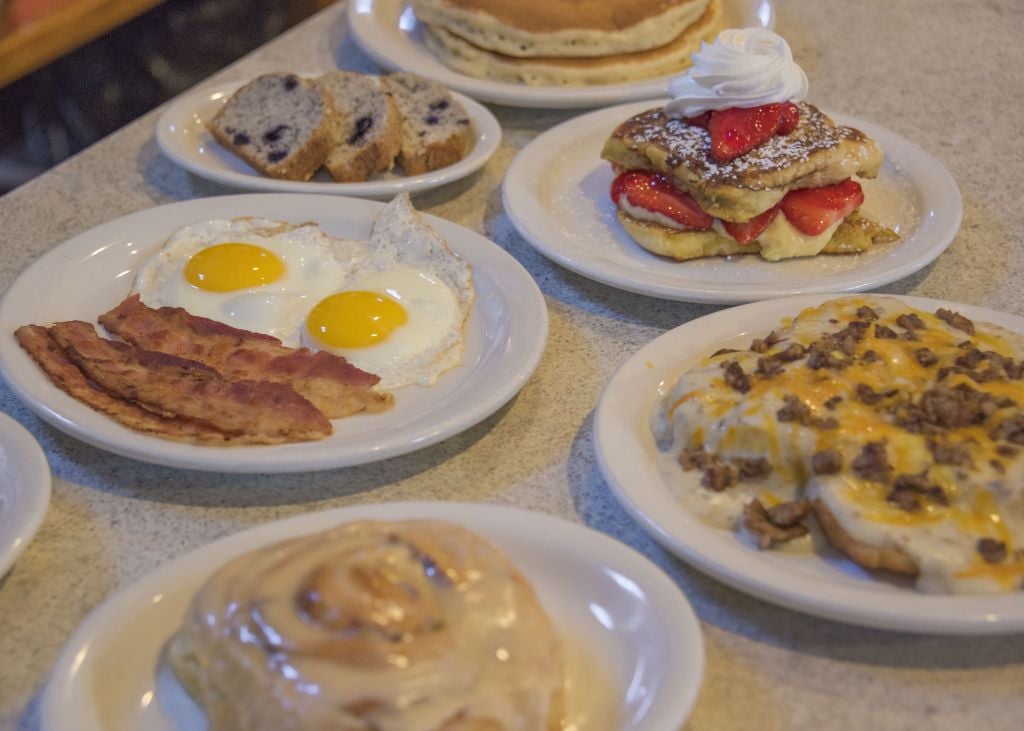 This Mishawaka eatery provides an unrivaled attention to detail in every one of their menu items. From the Stuffed French Toast to the owner's favorite Farmers Omelet, Macadoo's menu is full of delicious choices. The difficult part is choosing only one. That could be why Macadoo's sees so many of their customers return for more—that, and customers have said Macadoo's makes the best Loaded Biscuits and Gravy in The Bend. So what is their secret to all this delicious food? Tim McDonald, the owner, says it has to do with him cooking the meals. "This is my livelihood, I want to make sure everything is perfect."
Hours: Monday – Friday 5:00 am – 2:00 pm
Saturday 5:00 am – 1:00 pm
Sunday 7:00 am – 1:00 pm
Country Corral Restaurant
260 B North Village Drive, Shipshewana
LaGrange County Breakfast Wars Winner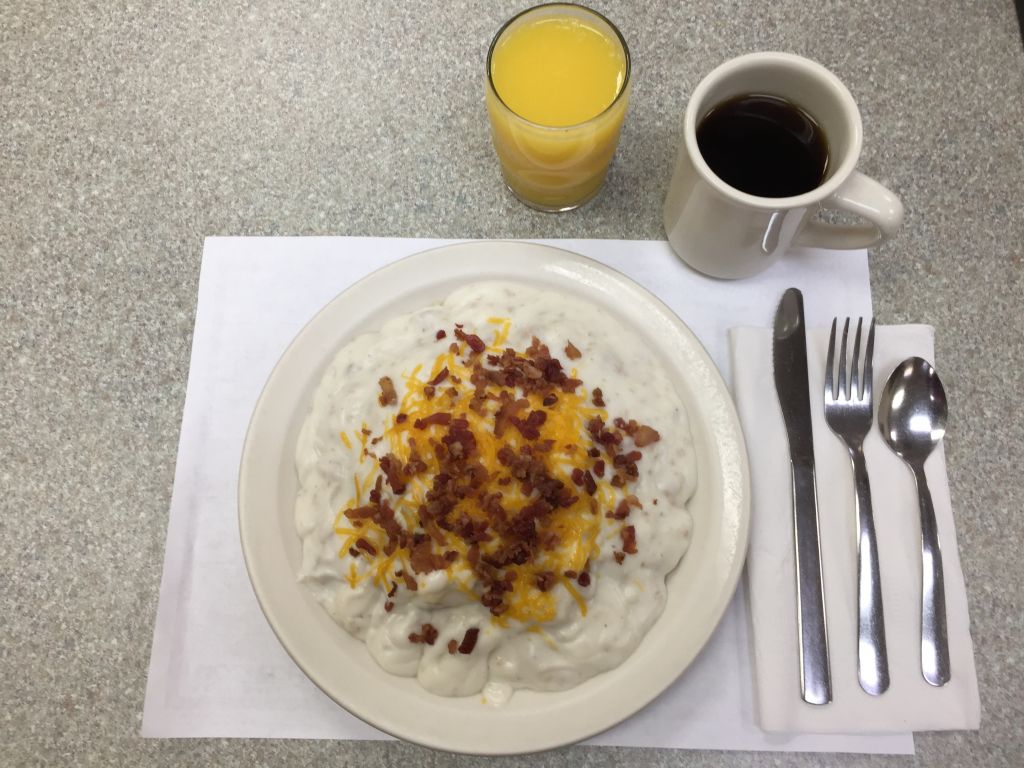 The Country Corral Restaurant is the epitome of a hometown restaurant. Great Food. Great Service. A local Favorite! We are famous for our Breakfast Haystack served only on Saturdays! What is a Breakfast Haystack, well  it is comprised of:
Fresh baked biscuit, Hash browns fried with diced ham and onions Scrambled eggs Homemade sausage gravy Topped with: grated American cheese and Bacon Bits.  Delicious!
Hours: Monday-Saturday 5:00 am-2:00 pm