Buckets Full of Blueberries
Posted on July 26, 2012 by Indiana's Cool North
How I love blueberry season in Northern Indiana! This year's early spring put blueberries into fast-forward, with most farms opening a week or two before the typical date of July 1. "We still hope to get six weeks of picking in, but we started on June 25 this year," says John Nelson, owner of the Blueberry Ranch in Mishawaka. This is John's 36th season in operation, and, at 80 acres, the Blueberry Ranch is the largest U-pick blueberry farm in the Midwest.
John never tires of blueberries. "I'm a big fan of combining them with other berries for a rainbow of color," he says. "I eat blueberries just about every single day of the year."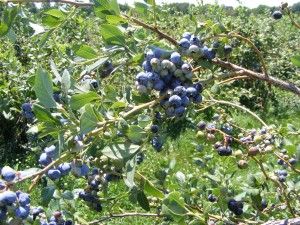 John's fondness for blueberries may be the secret to his good health. Blueberries provide the highest antioxidant levels of all fresh fruit, and a new study by the University of Michigan suggests that blueberries may even help reduce belly fat.
"Blueberries are my favorite fruit to eat with the kids," says Kelly Dixon of Warsaw, who is picking with her two daughters, Rachel, 2, and Maren, 6. "There are no stickers like with raspberries, and you don't have to stoop to pick them like with strawberries." I'm also a fan. I love to eat them right from the bush, popping them in my mouth with blue-stained fingers. Blueberries can be easily frozen in bags and poured out like frozen marbles for pies or smoothies later. But learn from my mistake and sort them before freezing: As a new bride, I once treated guests to a blueberry pie in which I had (accidentally) baked a frozen Japanese beetle right along with the berries.
Most farms have buckets for you to use for picking, as well as ropes or harnesses so you have two free hands for picking. The Blueberry Ranch even offers empty five-gallon buckets to turn upside down as a seat. "It's the blueberry equivalent to milking a cow," says Danielle, one of the friendly staffers. I was able to pick eight pounds of the Blue Crop variety (average in size) in about 45 minutes. Northern Indiana is speckled with U-pick farms. Check here for other blueberry farms that may be near you and be sure to call ahead for picking conditions and hours.
Freelance writer Kim Ranegar lives and works in Valparaiso and really knows how to pick 'em when it comes to local produce.