Enjoy Northern Indiana's Outdoor Offerings this Summer
Posted on March 19, 2019 by Indiana's Cool North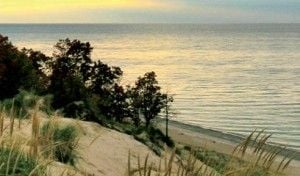 When Mary Glenn wants to get away, she knows she can pack up the kids, drive for a couple of hours and be in a very different place.
"We are absolute groupies of the Indiana Dunes," says the Naperville resident. "It's such a beautiful place. I could sit on the beach and stare at my surroundings for hours."
Of course, she doesn't, considering she's playing around with the children, splashing in the waters of Lake Michigan and running up and down the pristine beaches, just like she did when she was younger.
"I grew up in Oak Lawn and my dad used to love going to the Dunes," Glenn says. "It was part of so many weekends growing up. The fact that my kids start bugging me to go there once April starts is really sweet to me. It reminds of my dad. It reminds me of how important it is to get some time away with my family."
Glenn says it's also important that the time away isn't spent sitting in front of a movie screen or walking around a mall.
"I want them to enjoy the outdoors," she says. "It seems like kids from the Midwest have less of an appreciation for nature than kids from say, Colorado or California. That's a mistake. We're surrounded by so much beauty here – you just have to go and find it."
Northern Indiana offers numerous outdoor locales, offer natural and manmade beauty all summer long. Here's a look at some top outdoor attractions: