Including the Kitchen Sink!
Posted on August 23, 2012 by Indiana's Cool North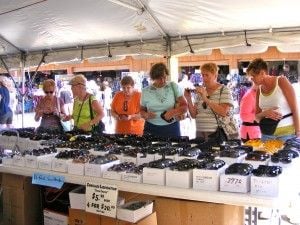 Hoping to find the same abundance I've experienced in Amish restaurants like Das Dutchman Essenhaus in Middlebury and Blue Gate Restaurant in Shipshewana, I recently visited the Shipshewana Flea Market. Part farmers market, part garage sale, part snake oil sale, the Shipshewana Flea Market is the largest in the Midwest. The more than 1,000 vendors gather 8 a.m. to 5 p.m. (EST) Tuesdays and Wednesdays, May through September, to offer the most unusual combination of goods I've ever seen.
It's my first flea market, and I'm amazed to find stands selling hair extensions next to reading glasses across from a stand selling gorgeous perennial daylilies. You can find cures for what ails you, say the salespeople hawking remedies for pain and energy boosters next door to degreasers and braided rugs.
"I've been working here for 21 years," says Darlene Heed, selling birds made from PVC pipes in booth 171. "I started selling eyeglass cleaner, but it got so you could hardly sell that, so now my husband Robert makes these," she says pointing to the plastic flamingos and herons.
I was also surprised that customers typically bargain with vendors. Right off the bat, I spot Jalen Heivilin of Three Rivers, Michigan, haggling with a vendor over a vintage Coca-Cola crate and can of antique tennis balls. Jalen is 11. "I got him down $3," he smiles. "I love antiques. I'll be putting these in my room." Most vendors accept checks; many even take credit cards.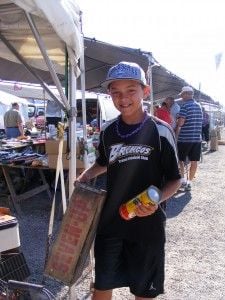 Beyond the flea market
Bargain hunting makes me hungry. Luckily, the Auction Restaurant is just across the parking lot. Regulars swear by the chicken and noodles and from-scratch pies. More shopping awaits two blocks away at the Davis Mercantile building, a mall of sorts with four floors of specialty shops and the famous JoJo's Pretzels, where you can try hand-rolled pretzels as big as your head in flavors like dill pickle or cinnamon.
As I head out of town, I'm amazed at the entrepreneurial spirit of the community. Along the roadways lined with buggy lanes, it seems that every third home has a hand-lettered sign out front advertising brown eggs, tomatoes or fried pie. It's a friendly slice of the Midwest.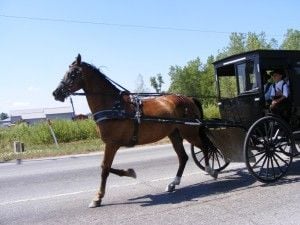 Freelance writer Kim Ranegar lives and works in Valparaiso and appreciates a good bargain.