Indiana Dunes National Park and State Park
Posted on March 16, 2023 by Indiana's Cool North
Hike the dunes and trails:

 

The Indiana Dunes National Park

encompasses 15,000 acres with 50 miles of rugged trails, and a diverse ecosystem of dunes, wetlands, prairies, old-growth forest, and 18 miles of sandy beaches.  Indiana Dunes State Park continues to amaze its visitors with its pristine natural landscape, offering three miles of picturesque shores adorned with dunes, and a rich variety of plant and animal life. 
Climb lofty dunes (check out the newest challenge "

Diana's Dune Dare

" in the National Park, or complete the "3 Dunes Challenge" in the State Park) or head inland on trails that take you through peaceful woodlands, sunny prairies and mysterious wetlands, rich with rare fauna and flora.
Go Birding:

 Devout birdwatchers have come to know the area for the more than 350 bird species that live here or migrate through. The annual Indiana Dunes Birding Festival in the spring draws birders from across the nation.
Swim, sun, and stroll the beach:

Beachgoers can choose from eight different beaches, some busy like Washington Park Beach and Lake View Beach, some more secluded. If you brought the family dog along, both Mt. Baldy Beach and Central Beach are pet-friendly. Even when winds blow cold, the beaches are wonderful places for strolls and beachcombing for shells and driftwood.
Find your Beach
Porter County plays host to some of the best beaches on Lake Michigan, from West Beach all the way to Mount Baldy in the east. See a map HERE.  Can't decide which beach is right for you? Indiana Dunes Tourism's Dunes 101 Video Series can help you decide in the "Which Beach is Which?" video. Watch all five Dunes 101 videos for insider tips and tricks to planning your visit to the Indiana Dunes.
West Beach
As you walk down the boardwalk to the vibrant four-mile beach, you can't help but notice all the natural beauty that surrounds you, from the towering dunes to the dense forests—there's so much to discover just past the waves. West Beach is a perfect place to get away and enjoy the Indiana sun, but if you need a break, explore three-and-a-half miles of sandy trails beneath the trees. These accessible boardwalk trails allow for panoramic lakeshore views from elevations reaching up to 110 feet! West Beach also has a full-service bathhouse and ample parking. Learn more here.
Central Beach
Central Beach is a secluded beach that stretches for two-miles beneath Mount Baldy, one of the largest dunes in the area! This beach has many different bike trails that weave in and out of the sand-blown forest floor, and it is a local family-favorite beach for swimming and picnicking. For more information click here.
Kemil Beach
Kemil Beach is off the beaten path, making it more tranquil than some of the other National Park beach accesses. Enjoy a scenic drive as you make your way to the beach parking lot. This is a peaceful place to float lazily on the waves and lay out in the sun. At night, make sure you stay at the Dunewood Campground, where you can enjoy all the classic camping pleasures as the sun sets behind Lake Michigan.  Click Here to Learn More!
Lake View Beach
Lake View Beach is very popular, not only for its miles of beautiful shore to walk, but for its unforgettable picnic area. This elevated terrace sits well above the beach to provide an amazing view of the water. Lake View is also only a mile from the Beverly Shores Train Station on the South Shore Line, which makes getting to the beach from South Bend or Chicago a breeze. Click Here to Learn More!
Mount Baldy
Mount Baldy is one of the largest dunes in the area, towering over Lake Michigan at an impressive 123-feet! Mount Baldy is called a "living dune," which means that it continues to grow and can even move up to four feet a year. For public safety, you can only access Mount Baldy when accompanied by authorized personnel, even when the beach is open. Call the Visitor Center for information on guided tours. For more information click here.
Indiana Dunes State Park
The Indiana Dunes State Park is by far one of the most popular parks in the Indiana Dunes area. This park offers three miles of prime beach tucked inside one of the nation's finest examples conservation: the preservation of the dunes' natural ecosystem. The park is also home to three of Indiana's tallest dunes—Mount Holden, Mount Jackson, and Mount Tom—that make up the 3 Dune Challenge, a formidable climb for any hiker. Inside the park, there are more than 16 miles of hiking trails that lead to the lush, beautiful heart of the Indiana Dunes State Park. This beach has plenty of fun for the whole family—including your pets, as long as you keep them on-leash. The park provides a historical pavilion and bathhouse, playgrounds, picnic areas, and campgrounds. Learn more here.
Winter turns the Indiana Dunes into a quiet wonderland perfect for hiking along snowy woodland trails and among sandy dunes.  Head out yourself anytime or join naturalists at the Indiana Dunes State Park in Chesterton who lead special hikes during the holidays–one on Christmas Eve morning for a stroll through the dune forests and another New Year's Day for a more rugged trek through the high dunes.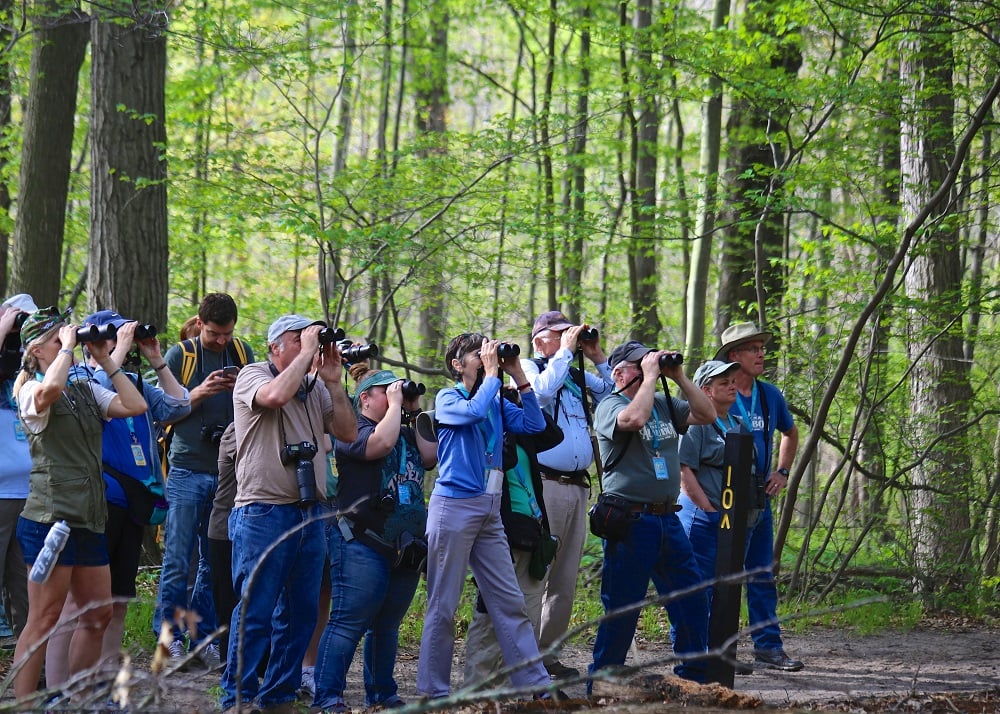 There's so much more than beaches
The Indiana Dunes is an ecologically diverse area, with opportunities to view hundreds of migratory birds, discover the flowers and plants, and explore Hoosier history.  Learn more here.