Sip and Savor: A Winery Tour of Northern Indiana
Posted on September 21, 2023 by Indiana's Cool North
Wineries are where it's at in Indiana's Cool North. Fruit wines are a local specialty, and our climate is well-suited to produce exceptional varietals such as Traminette—the signature grape that's native to Indiana—as well as classic blends you know and love. Add one winery to your weekend getaway, or set out on a tasting adventure around the region. Read on to discover some of the best wineries in Northern Indiana.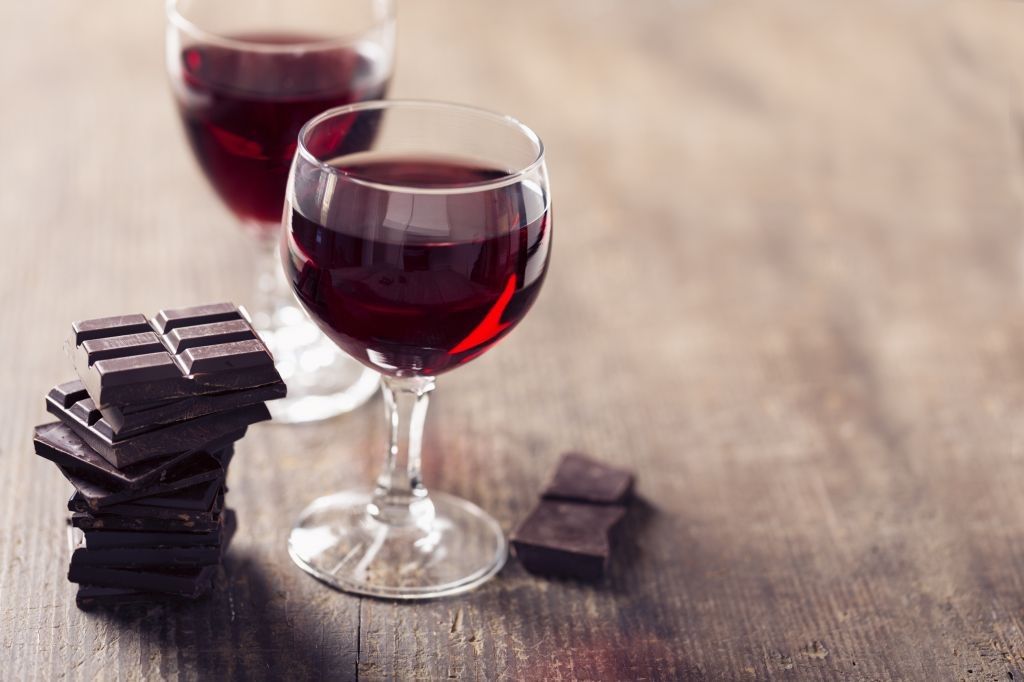 Anderson's Vineyard & Winery – Indiana Dunes
Perched on a ridge at the southern tip of Lake Michigan, Anderson's Vineyard & Winery has been in the fruit game for decades. Beginning as Anderson's Orchard in 1927, the family business expanded over the years and transformed into the first estate winery north of Indianapolis in 1994. They love to keep it local, using the Traminette hybrid grape that's native to Indiana. If Anderson's is on your itinerary, clear your schedule for a full day of adventure. Taste their award-winning wines, including Rhubarb Blush and Blueberry, take a tour through the vineyard, then settle in for a picturesque picnic in the sculpture garden. With a bakery, fudge factory, and gift shop also on site, you'll have plenty of opportunities to take home some sweets and unique souvenirs.
Running Vines Winery – Indiana Dunes
Combining their love of fitness and fine wines, cousins Walter Novosel and Nicole Taylor are carrying on their Italian family's tradition of winemaking in Chesterton. Try their more traditional Fit collection that includes reds and whites like Cabernet Sauvignon and Chardonnay, as well as the unique, sweet blends of their Race collection that you won't find anywhere else in the region. Stop by for a sample and depending on the night, you can enjoy live music, test your knowledge at trivia, get creative with wine and paint events, or if you're really ambitious, hit the pavement on a free fun run.
Aftermath Cidery & Winery – Indiana Dunes

What's a cidery doing on a winery list? Aftermath is the sister store of Running Vines Winery and serves up their wines along with Aftermath's signature ciders. Paying homage to nearby Valparaiso University's meteorology program, Aftermath's ciders are named after weather phenomena. Regular taps range from dry to sweet (as well as a non-alcoholic option), and their seasonal offerings include delicious fruit-infused ciders, plus a butterscotch-accented Butterbeer cider that is perfect for fall. Pair your drink with a crispy flatbread pizza or tasty antipasto plate, and those that are gluten free have several menu options to choose from.
Misbeehavin' Meads – Indiana Dunes

Also known as honey wine, mead was produced in ancient times by fermenting honey along with water, fruit, spices and hops. Today mead is seeing a revival and the folks at Misbeehavin' in Valparaiso make some of the best. From traditional to unconventional, they produce around 48 types of handcrafted mead per year using different fruits and varietal honeys. Settle down in the tasting room and sample everything from orange blossom to sparkling meads in a fun flight and pair your selections with meat, cheese, fruit and honey platters.
Shady Creek Winery – Michigan City LaPorte
This 20-acre winery is about an hour's drive from Chicago—ideal for a weekend escape from the bustle of the big city. Shady Creek Winery serves up five samples of their dry and semi-sweet wines for just $5 in a charming and welcoming space. After your tasting, choose a bottle of your favorite wine and enjoy it on the patio with a savory or sweet pairing plate. Shady Creek also highlights other LaPorte County vendors. You'll find specialty foods, handmade gifts, and artwork all available to take home.
IRONHAND Vineyard – South Bend Mishawaka
Nestled in the St. Joseph River Valley, IRONHAND was named in honor of French explorer Henri de Tonti who wore an iron hook in place of his missing right hand. True to de Tonti's spirit of adventure, this boutique winery creates around 4000 bottles per year using classic European grapes and unique American hybrids. Currently, Iron Hand offers a red blend of Cabernet franc, Cabernet sauvignon, Merlot, and Chambourcin, as well as a white blend of Reisling, native Traminette, and Gewürztraminer. From vine to bottle, the team at IRONHAND performs every step of the wine making process on site. Check it all out on a tasting tour, but be sure to call ahead as tastings are done by appointment only.
Fruit Hills Winery & Orchard – Elkhart County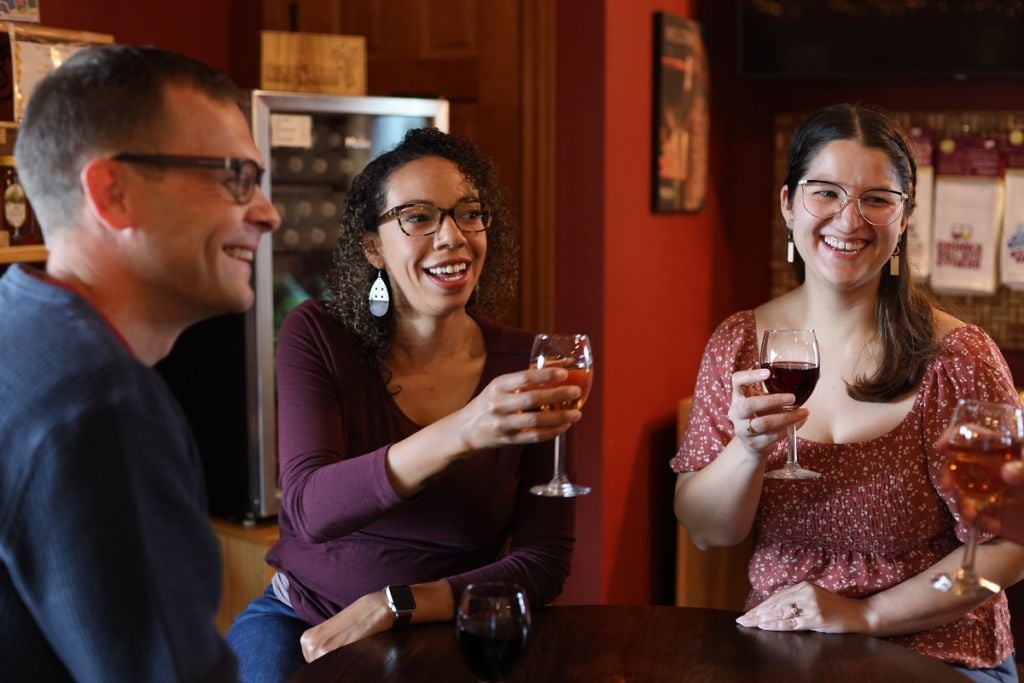 Among the historic Bristol fruit hills, you'll find Fruit Hills Winery & Orchard. On a farm that's been in the family since 1852, Dave and Michele Muir create delicious fruit wines, as well as award-winning reds and whites. Try their apple wine with hints of cherry juice and cinnamon, or sample other fruit wine selections such as strawberry, blackberry, and blueberry wines. Grab a glass and look out over rolling hills, or get cozy in the rustic tasting room that's open year-round. Only two miles from Bristol and a short drive to Shipshewana, Fruit Hills is an ideal addition to a romantic getaway in Indiana's Cool North.
Gateway Cellar Winery – Elkhart County
The owners of Gateway Cellar Winery have been involved in wine making since 1974, and in November of 2019 moved from Goshen into a totally renovated building in downtown Elkhart.  In addition to the wines they offer, they are also making fruit slushies.
South Shore Winery Trail – Northwest Indiana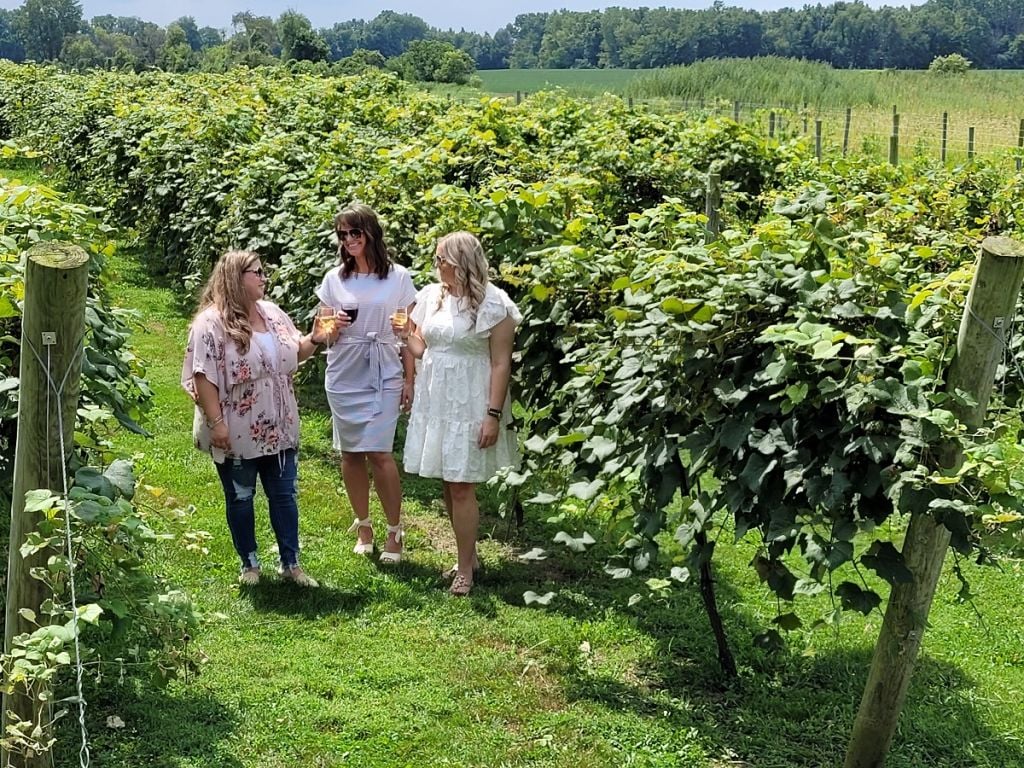 The South Shore CVA has created the South Shore Winery Trail, which includes many of the wineries in this blog as well as additional wineries in Lake County.
Ready to sip and sample your way through Indiana's Cool North? Explore even more things to see and do in Northern Indiana here.