Taco Wars Rundown
Posted on August 15, 2017 by Indiana's Cool North
We encourage you to support our restaurants in Indiana's Cool North during the COVID-19 outbreak; but please call ahead to individual restaurants to see if they are open and ready to serve you with carry-out or curbside service.
Tacos are one of those perfect foods. Tortillas, fillings and toppings come together to create a perfect hand-held bite. They're simple, yet satisfying, and often reflect the story and the heritage of the person who prepared them.
In Indiana's Cool North, dozens of taco makers were considered in the opening rounds of Taco Wars, the multi-county search for the best taco in Northern Indiana. Voters narrowed the list to one winner per county and then moved on to region-wide voting that ended on August 14. Mila's Mini Market was voted Best Taco in Indiana's Cool North with Los Aces winning the Critics' Choice Award.
We toured them all to hear their stories and taste their creations. Here's the total taco recap from those visits:
Mila's Mini Market
WINNER!
213 East Jefferson Street, Plymouth
Marshall County Taco Wars Winner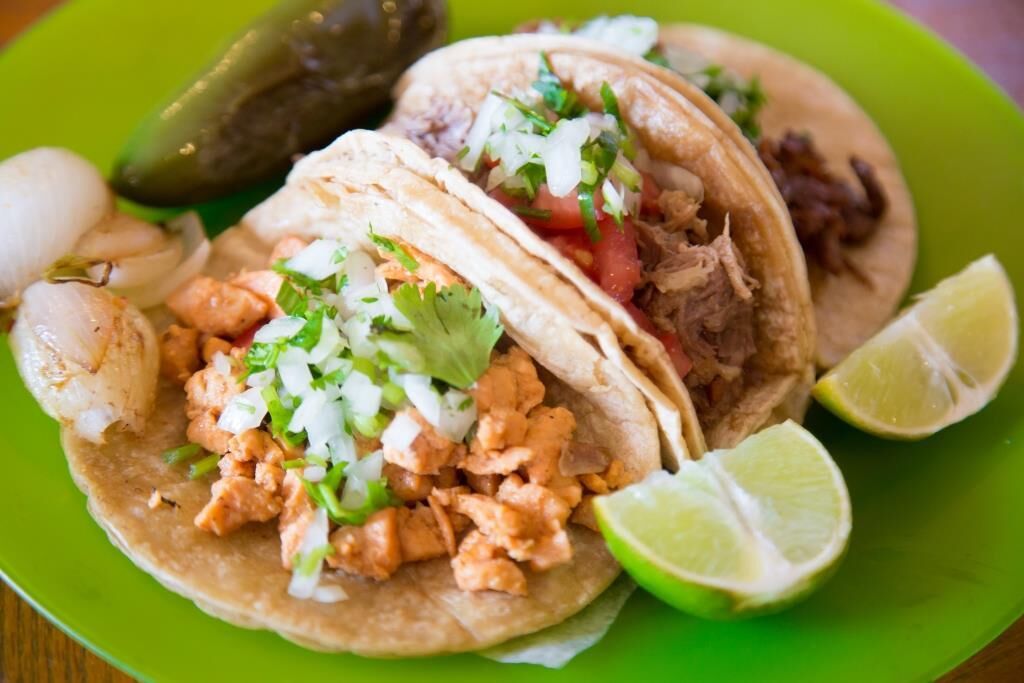 The little building a few blocks from the center of town is warm and inviting. When you walk in, grocery items fill the store, including colorful helium balloons and bags of the beloved Taki snack food. "We actually started just as a grocery store," said Evelin Vargas, whose family has operated the market for nearly nine years.
Mar Vargas and Celia Barron had a restaurant in California. After moving to Indiana with their three children, they opened Mila's and soon started selling tacos. They've added other menu items, including their popular guacamole, but tacos are still king. "We're definitely known for tacos," Evelin said.
Steak, chicken and pork were the original fillings offered and are still among the most popular, but there's also barbacoa (stewed beef), carnitas (deep fried pork), chorizo (sausage), beef tongue and beef tripe. The meats are tender and, particularly in the case of the carnitas, full of flavor. Classic green and red salsas go on the traditional toppings of onion and cilantro. Mila's will put your photo on the wall of fame if you can tackle ten of their tacos. The record is 26 so far this year, said Evelin.
A customer appreciation day for those who help put Mila's over the top in the county voting drew a great crowd. Aside from that, business has been strong because of Taco Wars. "We've had crazy numbers of new customers coming in," Evelin said.
Los Aces
Critic's Choice
3622 Edison Road, South Bend
St. Joseph County Taco Wars Winner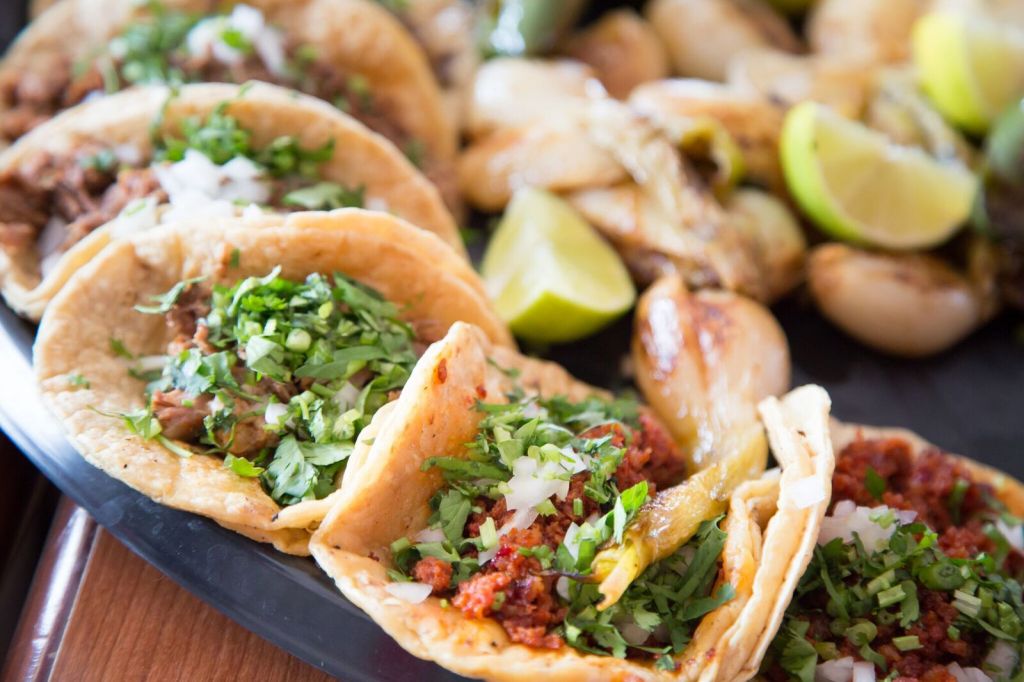 When Sandra Garcia was studying at the University of Notre Dame, her roommates fell in love her parents' fajitas. By the time she graduated in 2009, many of them had visited the family in Chicago and the family saw an opportunity come to Indiana's Cool North and open a restaurant. Arnulfo Garcia, Sandra's father, was a cook in Mexico City before becoming a truck driver in the mid-1980s. He still cooked for family events and was known for his food, said his son Raul.
"Before he retired, he said he wanted to open a restaurant," Raul said. The family found space in a former bakery and made plans to open a restaurant that recalled the kind of food Arnulfo had made with his brothers in Mexico City, influenced by Jalisco, where they were originally from. "Their style. They brought it to Mexico City," Raul said.
Los Aces opened on Black Friday 2016 and business has been strong. Arnulfo makes barbacoa for tacos and other items, but when customers asked about the flavorful broth, he created a stew with it and regularly sells out. Another stew called carne en su jugo combines steak, beans and bacon. In all, eight meats are available for tacos, as well as breaded chicken and steak. On an appreciation day after winning the St. Joseph County contest, customers could get three tacos for $5. "It was crazy numbers," said Raul.
New customers are learning what Sandra's Notre Dame classmates and now her coworkers at the university already knew about her father's cooking. He's talking of adding seafood to the menu as well as expanding the restaurant. The attention from Taco Wars and the arrival of football season are likely to keep Los Aces winning.
Woodfire Meat Market
1202 Formula Drive, Valparaiso
Porter County Taco Wars Winner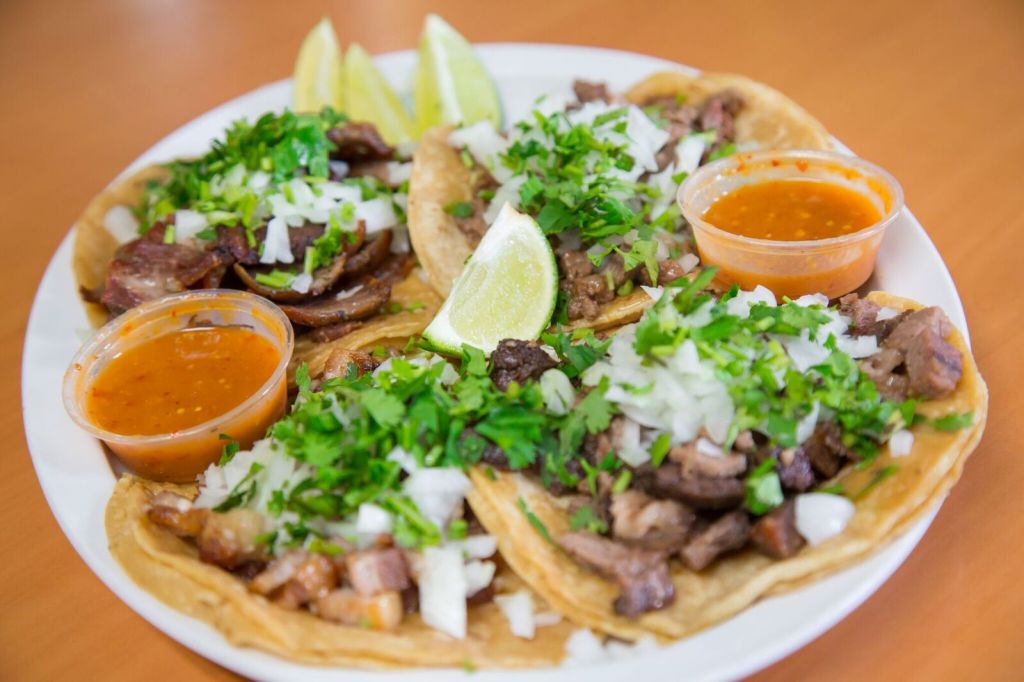 Manuel Navarro had 18 years of experience from working at a Greek restaurant starting when he was 14 years old.
He'd become an accountant with office space for rent in Valparaiso, but when he had a mostly empty building, he opted to open his own restaurant rather than try to find tenants. "It was just a crazy idea," he said of opening in 2016.
He built a menu of Greek and Mexican foods, including one that combines both cuisines. He and his staff layer marinated, sliced lamb on a spit to roast for their own gyros and gyro tacos. "My god, they love them," he said of his customers. Between the gyros and the tacos, Woodfire goes through about 80 pounds of lamb a day.
In addition, Woodfire offers pork belly, prime rib, brisket, and ribeye on the tacos, as well as more conventional offerings such as steak and barbacoa. He uses high quality meats and customers have responded to the full flavors. "It has been working for me," he said.
Woodfire brings together the Mexican and Greek flavors in the menu, but also in items available in a small market shop. Tamales are for sale in a cooler alongside three kinds of feta cheese. Salsas made in-house are available as well as olives. Woodfire also has a full-service meat counter. Navarro is still an accountant, but in his new role as a restaurant owner he's making people happy with flavor combinations and high quality foods.
Cabos Ice Cream Shop & Cafe
731 Washington Street, Michigan City
LaPorte County Taco Wars Winner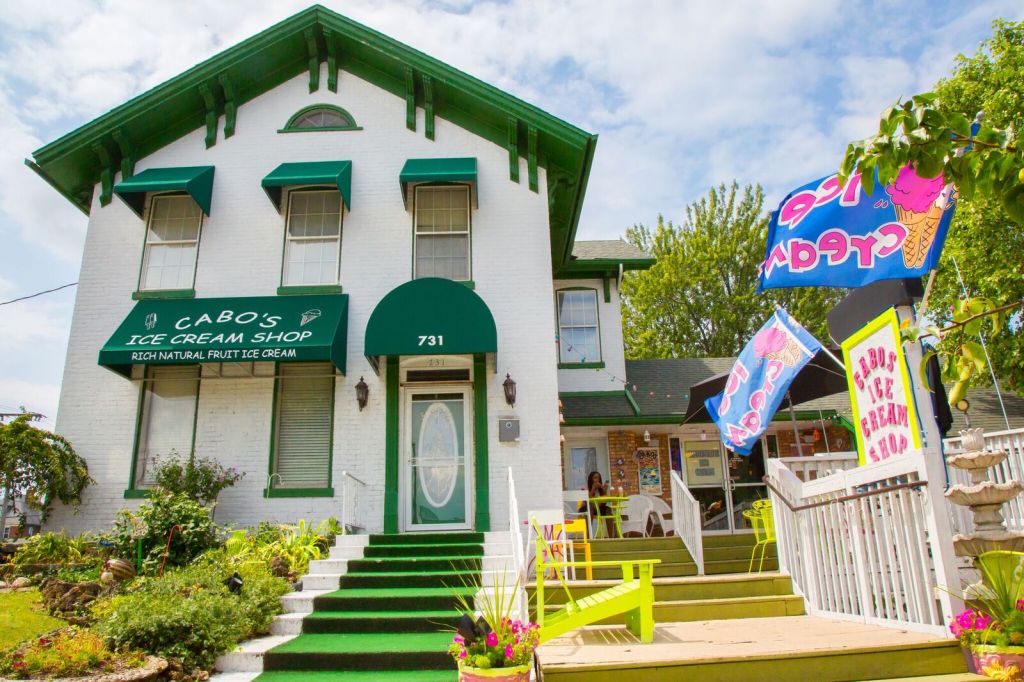 Six years ago, Carol Flores opened an ice cream shop in downtown Michigan City. Tiered patios lead up to the building where they make ice cream from scratch and serve it to local and visiting customers. After her children said she should offer more food, she created a small menu. But when she looked at the numbers, food sales weren't strong, so last year she did away with food.
"The customers were upset," she said, noting that some walked out without making purchases when they learned the tacos and other items were gone. She learned that people would come in for tacos and then also buy ice cream. The food helped drive other sales.
"We wanted to be known for the ice cream," she said, but as the LaPorte County winner of Taco Wars, she now has a reputation for more than just ice cream. Steak tacos are the biggest seller, followed by chicken and beef. She occasionally slips a piece of cheese between the two corn tortillas to add to the flavor, particularly with the chicken tacos.
Customers line up to order. In the open kitchen, Flores prepares the hot food while some of her children dish up ice cream. Two of her children, now in graduate school, help her prepare food when they're home. "It's home," she said of how she makes her food. They slice their meat fresh and show a lot of care in their work, including slow-cooking the chicken in a guajillo chile sauce like barbacoa. "I keep it really simple," she said of her six items on the food menu. They, and the ice cream, are both hits with her fans.
Los Primos Mexican Grill
124 W. Jefferson Ave. or 122 E. Clinton St., both in Goshen
Elkhart County Taco Wars Winner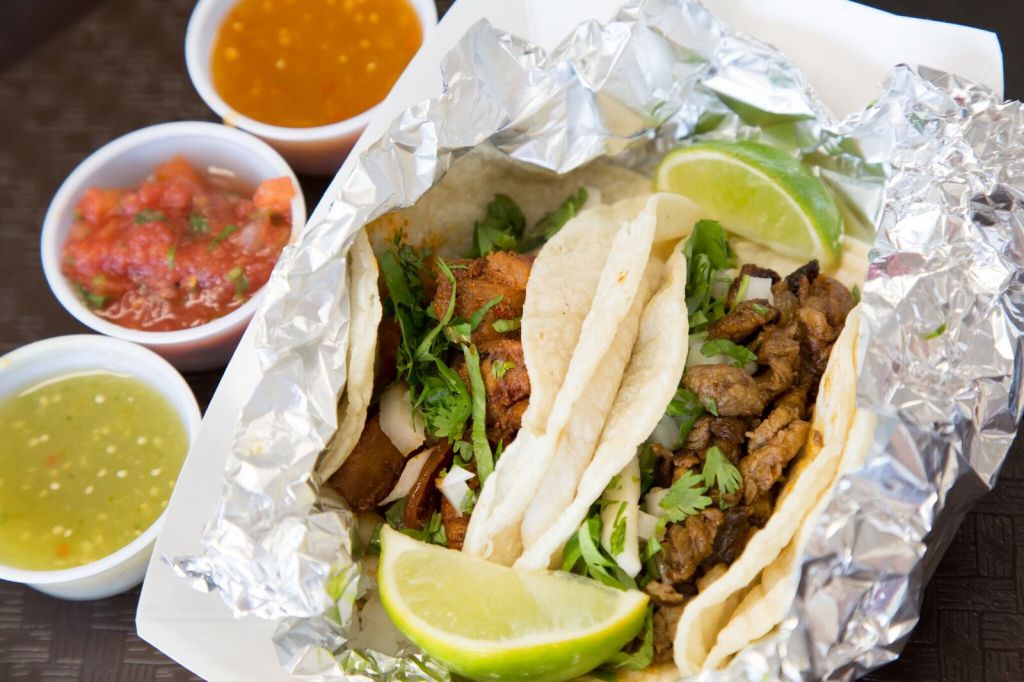 Los Primos Mexican Grill Chef Martin Lopez's 42 years in restaurant kitchens includes making food for the important folks staying in the Mexico City hotel where he worked after culinary school, stops in California, Georgia and Florida, and even seven years at Old Country Buffet.
Through a family connection, he found his way to Goshen and for the last eight years, he's offered his flavors out of a small kitchen at the corner of Clinton and Fifth near the historic Olympia Candy Kitchen. In June, his family opened a second location a few blocks away with a larger kitchen, which gives customers the opportunity to watch their food made as they order.
Lopez draws from a variety of regional Mexican cuisines and blends classic and modern flavors as he works with his wife Marylou and two children, as well as other family members, to operate two restaurants and catering gigs. The original location has a larger menu that he makes to order. The new location is aimed at offering quick, customizable lunches and dinners to the working crowd.
Pans of chorizo, steak, chicken and more await warmed tortillas. Salsas, pico de gallo and guacamole all look inviting as the customer works his or her way down the assembly line. Lopez said he cooks not with cups or spoons, but with a pinch of this or that, and the flavors reflect his experienced hands. Winning the county's Taco Wars has been a dream come true, he said. Seeing an influx of new customers because of the contest and getting the affirmation of longtime customers has been exciting, though he said he eventually hopes his children oversee the business so he can relax.
Marshall V. King is a northern Indiana freelance writer who has been writing about food since 2000. You can find him on social media at @hungrymarshall.
Edited December 2018