The Best Camping Spots in Indiana's Cool North
Posted on April 25, 2023 by Indiana's Cool North
If you're looking for things to do in Northern Indiana, start by stepping (then sleeping) outside.
June is National Camping Month, and camping or RVing are the best ways to celebrate holidays like the Fourth of July or Labor Day—not that you need an excuse to get outdoors and explore Indiana's Cool North.
Camping is fun, affordable, and can be as relaxing or exciting as you'd like. Northern Indiana's campgrounds are remote enough to give the true camping experience, yet close to so many attractions and activities that you can easily mix things up. Most also offer rates for the casual and committed, so you can choose from daily, weekly, monthly and even seasonal options.
So get excited, get outdoors, and plan a trip today. Here are just a few of Northern Indiana's coolest campgrounds to get you started.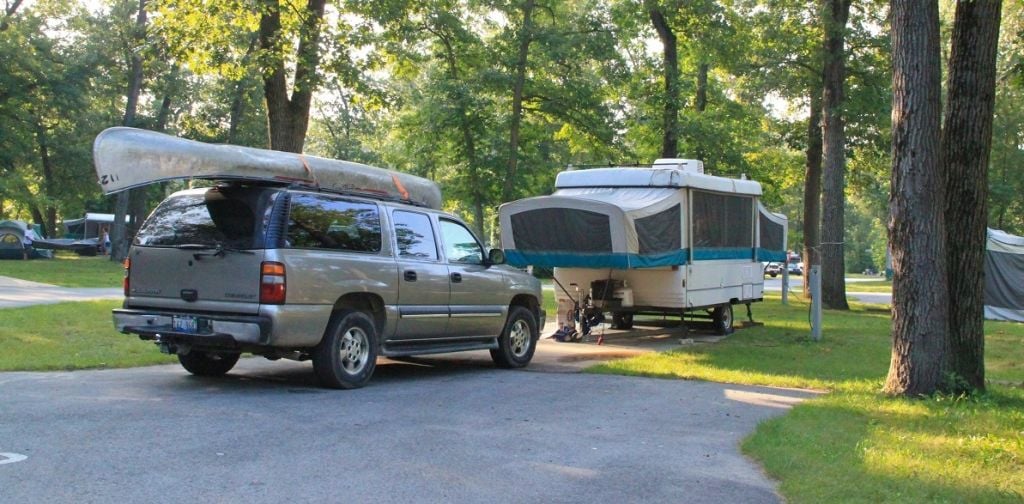 Indiana Dunes State Park Campground
With three miles of beautiful beach along Lake Michigan's southern shoreline, Indiana Dunes State Park Campground in Porter County is one of Northern Indiana's best.
Nearly 2,200 acres of dunes, forests, marshes, white pine groves, and hardwood forests are easy to explore, and it's even easier to see why it's a perfect camping destination. Less than a mile from the beach and a just walk away from the South Shore Rail Station, the campground is one of the most popular in the area. Be sure to book well ahead.
Hike or bike several trails (for all experience levels), enjoy fun on the water, or simply connect with the breathtaking natural environment through birding (with over 350 species present), wildlife, and landscapes that abound in this epic state park. Best known for its world class beaches, you can also challenge yourself to climb the three tallest sand dunes at Indiana Dunes. If you make it, you'll enjoy incredible views atop the 1.5-mile challenge trail—the toughest in the park—with a 552-foot vertical climb.
Michigan City Campground
A smaller but still excellent camping destination, Michigan City Campground is a 40-acre park just five miles from Lake Michigan and ten Miles from Indiana Dunes National Park in Laporte County. Its proximity is a big bonus, because while you'll enjoy a long list of activities on-site, you'll be just minutes away from the city and surrounding attractions.
Find easy access to everything from cycling and hiking trails, horseback riding, fishing charters, kayak rentals, and golf courses, to wineries, restaurants, outlet shopping, antique shops, the Washington Park Zoo, the Blue Chip Casino and more. The campground has on-site laundry, a pool, groceries, sports facilities and a man-made fishing pond. For serious fishing, visit nearby Pine Lake and Stone Lake, where you can find perch, bass, bluegill, northern pike, and walleye.
Unlike many campgrounds, this one is open year-round. It also accommodates tents, pop-ups, travel and fifth wheel trailers, and motor homes of any size. Looking for something a little more comfortable indoors? Choose from cottage and cabin accommodations ranging from simple bunking cabins to premium or deluxe options.
Potato Creek State Park
With 3,800 acres to work with, you'll find no shortage of outdoor activities and fun ways to explore this vast, beautiful park surrounding the 327-acre Worster Lake in St. Joseph County. At Potato Creek State Park, just 12 miles south of South Bend, the only challenge is deciding what to explore.
You'll find the complete collection of everything campers covet all year long: cabins, fishing, boating, beaches, paved trails, rugged hiking trails, mountain bike trails, bridle trails, horseman's campground, nature center, naturalist programs, picnicking, cross-country ski trails, tubing hill, and even ice fishing.
Your backdrop for these activities also includes incredibly diverse Northern Indiana habitats, terrain, and wildlife. The park has been designated as an Important Bird Area by the National Audubon Society and Birdlife International. If possible, make a reservation in advance. There's often a lineup of campers and outdoor adventurers looking to enjoy the facilities at this popular park.
Shipshewana RV Park
If you are visiting Shipshewana, book your spot at the Shipshewana RV Park – it's on the flea market grounds and across from the Michiana Event Center.  Downtown is only a few blocks away.  There is also an RV Service Center where you can schedule service work while you are enjoying your visit.
Twin Mills Camping Resort
The perfect place for a family getaway, Twin Mills Camping Resort in Howe, LaGrange County, offers RV, tent, and rustic cabin sites amidst acres of beautifully wooded trails that are great for hiking. If you want the RV experience without the commitment, you can rent one.
The young (and the young at heart) will be busy with all kinds of fun indoor and outdoor games and impressive facilities—including a pool, games room, and full-time recreation program—on-site. If you're looking to cast a few lines, the calm shores of South Twin Lake are a fisher's dream, and nature enthusiasts will relish the abundance of plant and animal life to be found on both land and water.
Twin Mills is also home to one of the largest Amish settlements in the United States, so visitors can enjoy a rich cultural experience (you'll even share the highways with horse and buggy travelers!). Guests can enjoy a variety of festivals, fairs and events in the area, and you can find several great golf courses within a short drive. Be sure to visit the famous Shipshewana Flea Market for unique crafts, country décor and antiques.
Elkhart County/Middlebury KOA
A big rig-friendly RV campground conveniently located near Shipshewana, the Elkhart County KOA also offers comfortable rustic accommodations in cabins, lodges, and amazing tent sites.
Close to the campground are several great attractions. A short drive away is The Village at Winona Lake, a thriving arts community on the shores of beautiful Winona Lake. Find great shopping, dining, and cultural events throughout the year. Or go for a buggy ride and enjoy a play at The Barns at Nappanee, an historic farm where time stopped over a century ago. You'll also be an easy drive from the storied campus of the University of Notre Dame.
Located in the heart of the nation's RV industry, you'll be close to RV factories for tours, the RV Hall of Fame, and near one of the country's largest Amish communities and many other Amish attractions, making it a great destination to experience simple, relaxed living and the great outdoor environment of Indiana's Cool North.
The St. Joseph River is just a few miles from the campground, while Hunter Lake, Stone Lake, and Fish Lake are within one mile. If your visit includes a Thursday, be sure to take advantage of their Amish Backroads Shopping Tour shuttle, where you'll get to visit back road Amish shops, travel through the scenic farm country, and learn about the Amish way of life. The campground also offers a convenient shuttle to the RV Hall of Fame.
Back at the campground, you'll enjoy a wide variety of fun family activities including sand volleyball, badminton, mini-golf, basketball, bike rentals, paddle boats, hiking trails, a bark park, and more.
Oak Lake Family Campground & RV Park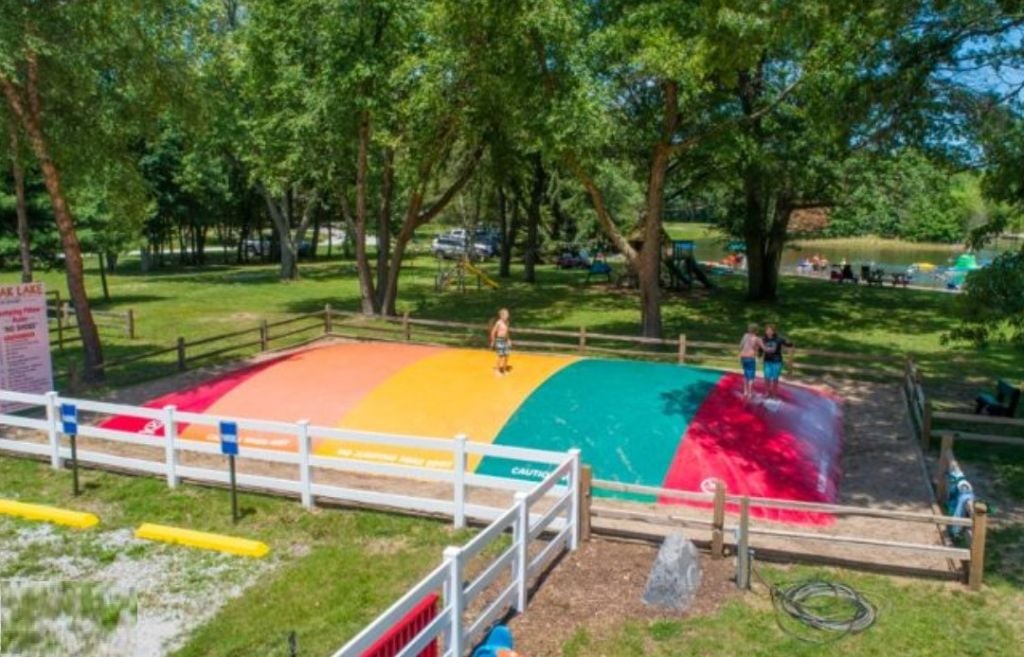 Nestled amidst 68 picturesque acres in Fair Oaks, Oak Lake Family Campground and RV Park provides an ideal retreat for families. Experience a blissful getaway that offers a range of seasonal sites, cozy cabins, and charming yurts for your family's enjoyment. Unwind on the sandy beach, offering breathtaking views of the serene lake, or partake in the exciting array of activities!
Now that you've nailed down accommodations, it's time to plan how you'll spend your time in Indiana's Cool North. Explore our eclectic activities and attractions here.