Weekend Escape Series: Lake Michigan and Beyond
Posted on August 27, 2022 by Dina Miller
It's hard to top pristine beaches, lofty dunes, and clear Lake Michigan waters for a weekend getaway. The livin' is easy, summertime or anytime, in Porter and LaPorte Counties, which anchor the Great Lake's southern tip and are home to one of the nation's best-loved natural treasures – the Indiana Dunes National Park. More surprises await beyond the beach – vibrant communities with trendy shops and restaurants plus the earth's locally raised bounty at farmers markets, orchards and U-pick farms.
Day One: Indiana Dunes National Park and State Park
Vacationers love spending a day or more along Lake Michigan and in the communities close to the water. Michigan City, which hugs the shore, serves as a gateway to the National Park, and you can easily combine a day on the beach with dining and activities in town. Make sure to stop at Indiana Dunes State Park in Porter, where plenty of advice is available from rangers on specific hiking trails, camping, fishing, birding and other outdoor adventures. The Park sponsors all kinds of guided outdoor activities too.
Swim, sun, and stroll the beach: The National Park encompasses 15,000 acres with 18 miles of sandy beaches. Beachgoers can choose from eight different beaches, some busy like Washington Park Beach and Lake View Beach, some more secluded. If you brought the family dog along, both Mt. Baldy Beach and Central Beach are pet-friendly. Even when winds blow cold, the beaches are wonderful places for strolls and beachcombing for shells and driftwood.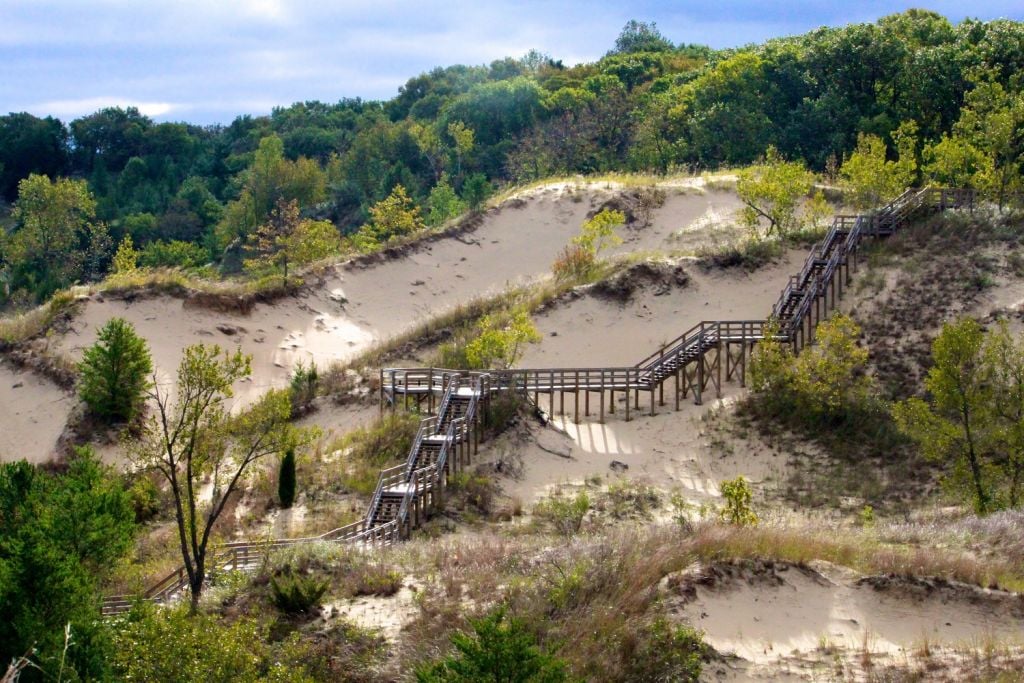 Hike the dunes and trails: Climb lofty dunes (get your heart pumping on the state park's "3 Dune Challenge") or head inland on trails that take you through peaceful woodlands, sunny prairies and mysterious wetlands, rich with rare fauna and flora. Sign up for a ranger-led hike at the State Park.
Go Birding: Devout birdwatchers have come to know the area for the more than 350 bird species that live here or migrate through. The annual Indiana Dunes Birding Festival in the spring draws birders from across the nation.
Reel in the big ones!: There's a reason Michigan City is known as the "Coho Capital of the World." Every angler on earth dreams of reeling in a prize catch, and the waters of Lake Michigan offer some of the best fishing around for Coho and Chinook salmon and more. Hop aboard a charter boat, where an experienced, licensed captain provides all the equipment and teaches you everything you need to know to bring home your own prize.
Kayak the big lake: Kayakers who come to the National Park enjoy the Lake Michigan Water Trail, a 50-mile stretch of the big lake with multiple access points between Indiana's borders with Illinois on the west and Michigan on the east.
Play
Do the Zoo, the Lighthouse and the Lubeznik too! The lakefront is loaded with things to see just steps from the shore in Michigan City. The Washington Park Zoo features some 90 species, all in natural settings. You can tour eight rooms in the Old Lighthouse Museum, originally built in 1858. Also steps from the waterfront, the Lubeznik Center for the Arts features a high-quality, changing exhibition schedule in four airy, gleaming galleries plus a collection of outdoor artworks.
Stay
DunesWalk Inn at the Furness Mansion, Chesterton: A historical setting blends with modern-day amenities and quiet comfort at this family-friendly boutique hotel just three minutes from Lake Michigan and beautiful Indiana Dunes beaches. Choose from two suites and three guest rooms.
Dine
Shoreline Brewery and Restaurant, Michigan City: Classy entrees and casual fare team up with beers brewed on the premises at this favorite local establishment.
Octave Grill, Chesterton: It's amazing how many different kinds of burgers you can create at this cool and cozy little restaurant. The toppings are numerous and you choose your own. Then there are all those other selections like beer mac and cheese, plus scrumptious desserts.  
Day Two:   Markets and More
You might want to bring your cooler along when you visit this fertile region! Northern Indiana's ideal growing conditions make for plentiful harvests that seem to show up everywhere, especially at friendly farmers markets and in unique restaurants where chefs love to infuse their inventive cuisine with locally raised ingredients. Other creativity abounds as well in these communities where you can shop for the works of local artists as well as treasured antiques.
Play
Get your Continental vibe on: You might find it hard to believe you're still in Indiana when you peruse the bounty at the Chesterton European Market (Saturdays early May through October). Some 100 outdoor booths brim with heirloom tomatoes, boutique cheeses, artisan breads and pastries, high-quality art plus all the goods that farmers from a wide area bring. There's music too!
Produce and more galore:  It's amazing what you'll find at The Michigan City Farmers Market (Saturdays early May through mid-October).. Area growers bring their produce, and some Amish farmers also sell the home-baked pies and cookies that this cultural group is known for. Other vendors display a host of interesting goods, such as organic herbs, plants, and even dog treats. A block away, shop at an outdoor art bazaar
View iconic American art: Head south to the community of Valparaiso, home of Valparaiso University and its exceptional Brauer Museum of Art. The museum is known for its nationally recognized collection of American art, including works by Frederic Edwin Church and Georgia O'Keeffe.
Shop Downtown Valpo: Unique, locally owned stores in downtown Valparaiso will leave you feeling pampered and fulfilled. Whether you're seeking a shop-till-you-drop adventure or looking for a perfect gift to take home, you'll find one-of-a-kind treasures, welcoming store owners, and a relaxed atmosphere.
Dine
Don Quijote, Valparaiso: A longtime favorite for authentic Spanish cuisine, serving classic entrees and tapas in a traditional white-tablecloth, candlelit setting.
Blue Point Oysters & Sushi Bar, Valparaiso: If you're an oyster lover, get set for some amazing choices! This restaurant offers up to 10 different kinds, along with fresh seafood and sushi. Steak, chicken and pasta are also on the menu.
Stay
Songbird Prairie Bed and Breakfast, Valparaiso: If you love birds or just a luxurious nest, this is your kind of place….a romantic retreat with bird-themed rooms and a spa. You can watch the birds outside the window as you indulge in a gourmet three-course breakfast.
Day Three: LaPorte
Mother Nature must have had fun in mind when she blessed this laid-back community and its surrounding area with several lakes and a fertile growing region.  Visitors take advantage of a host of watery recreational activities, fruit picking at local farms and orchards, plus loads of antique shopping when they visit.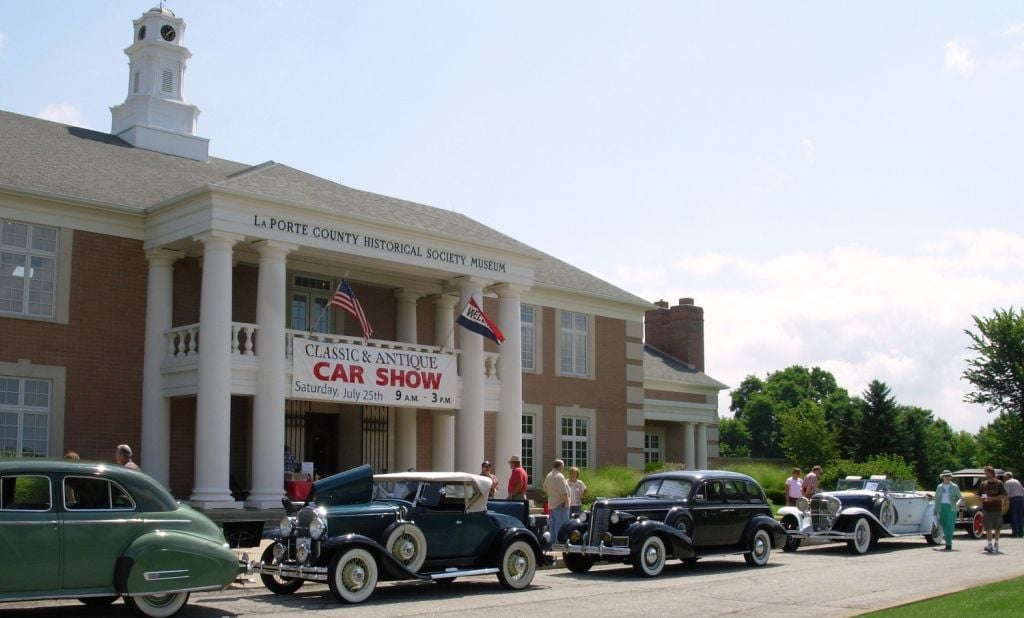 Play
Love those lakes!: LaPorte boasts several lakes, including Pine Lake, the largest body of water in town. It's known as a great place to fish for bass, crappie and more. Families spend lazy days swimming and sunning at Stone Lake, which has a beach, concession stand and grills for lakeside barbecues. Clear water and sandy bottoms in both lakes make this a popular vacation community.
Pick a peck:  Harvest the freshest of fruit at two longtime LaPorte operations (or they'll do the work for you). Pick strawberries, raspberries, and apples at Garwood Orchards and Farm Markets or blueberries at Blueberries of Indiana.
Hunt for vintage (and handmade!) finds: Antique lovers find several antique shops here.  Sixty dealers sell their antique wares at Uptowne Shoppes, and Coachman Antique Mall is known as Indiana's oldest and largest antique mall. Don't miss other specialty shops, such as Hook Pottery Paper where a pair of artists create pottery and handmade paper and stationery.
Touch the Past: Fascinating local history fills the LaPorte County Historical Museum. Visitors view top-notch exhibits such as a vintage auto collection, sports memorabilia, rooms that reflect various time periods, and, the third largest private gun collection in the world.
Dine
Mucho Mas!: Casual California-style Mexican eatery where fish tacos are a favorite. The restaurant was voted a winner in an area-wide taco contest.
Heston Supper Club: A few miles outside of town in unincorporated Hesston, this building once housed a general store and tavern. Today the award-winning prime rib and hand-cut steaks draw visitors from a wide area.
Stay
Blue Heron Inn, LaPorte: On the shores of Pine Lake, the inn features some rooms with lake views and also accommodations in floating boathouses.
There's a lot more to see and do in these two counties than you can fit in to one weekend, but this should give you a great starting point for creating your own getaway along the Indiana Dunes National Park and Beyond in Indiana's Cool North.