Beiger Mansion Offers Overnight Opulence
Posted on January 31, 2013 by Indiana's Cool North

We really should have used the workout room at Mishawaka's Beiger Mansion, but the opulent setting made me just want to cuddle up. It's hard to believe that the 1907 four-story limestone mansion was gutted by fire in 1974. "It's so gratifying when people come in and think everything is original," says owner Ron Montandon, who bought the home in 1989 when he was just 34. Though it was nearly hollow inside at that time, Ron had always been captivated by the home. "As a child, I used to make my mom drive by the house on our way to the dermatologist. Thank God for bad childhood acne," he laughs.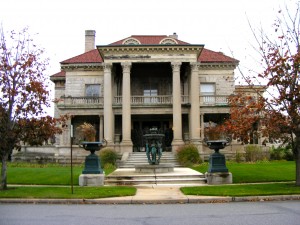 Trained as a landscape architect and an electrician, among other things, Ron has lovingly restored the Beiger (pronounced "Bee-ger") and decorated it from the floor up—imported rugs to sparkling chandeliers. It's bejeweled, fringed and coffered. "I'm always embellishing," Ron says. He's not kidding. Our guest room (one of six) has a four-poster with 10 plush pillows poised on an area rug atop wall-to-wall carpeting. Ron's talents don't end with building and decor. He was also the chef for our lovely made-to-order breakfast served on fine china with real silver service.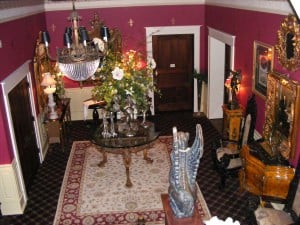 Ron's standard Sunday morning breakfast is his grandiose version of eggs Benedict. "I separate the yolk from the white and whip the whites into a meringue, creating a little cloud. Then I roll the yolk back in before topping with a Hollandaise sauce with lemon zest," he says. Heavenly omelets are also guest favorites. "The secret to fantastic omelets is to never use milk," he says. Ron advises whisking the eggs with water because the milk "flattens" the eggs.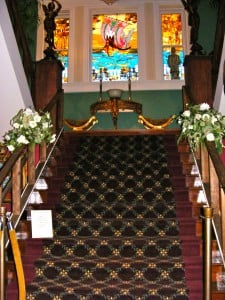 I love the lush dining room with coffered ceilings, stained glass and wood-paneled walls. The solarium is enticing with lush plants and glossy magazines to browse. Our guest room was exquisite and sunny, complete with spa robes for two. There's an outdoor pool and year-round hot tub. And then there's that workout room. It's lovely to admire, but why work up a sweat when you can lounge at the Beiger?
Kim Ranegar is a freelance writer from Valparaiso who normally appreciates a quality workout experience.