Things to Do in Northern Indiana: Cool Downtowns
Posted on July 1, 2013 by Indiana's Cool North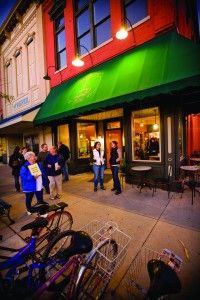 Like gems strewn across Chicago's doorstep, the downtowns of Northern Indiana beckon travelers with treasure galore.
"I've always liked the sense of history you get," says Chicago resident Randy Craig. "It's not like visiting another country, but each town does have its own legacy."
Unlike downtowns in larger, more urban communities, Northern Indiana's have survived largely intact, offering visitors a cavalcade of classic architecture, specialty retailers, year-round festivals, down-home as well as fine dining, and bargains ranging from pizza and beer to vintage clothing and antiques.
"What's most striking about La Porte is the architecture," Craig says. A string of historic homes along Indiana Avenue greets visitors coming into town, and then once downtown, there's the La Porte County Courthouse, a Carnegie library, the former Rumley Hotel, a vintage railroad depot and the Civic Auditorium, a multiuse facility that Craig describes as "amazing for a town the size of La Porte."
Other downtowns draw similar praise from Chicago visitors. "Goshen is like an oasis that appears out of the fields," says Andy Pierce, a native-born Hoosier who's lived in Chicago for about 20 years and returns to Indiana frequently to recharge his batteries. "I took a Theatre Historical Society of America group there two years ago and they were amazed at Goshen. They also couldn't believe we were able to have a gourmet lunch there."
Northern Indiana downtowns offer pleasant surprises like that, Pierce says. "Most towns have experienced the resurgence of Main Street and participated in the Indiana landmarks group. They know the resources that they have in their courthouses and Victorian storefronts. There's a lot of civic pride in these places."
And those with an itch to shop will find their scratch goes a lot further here than in Chicago. "Shopping the antique and secondhand stores, you'll find things are much less expensive," Pierce says. "You sometimes feel bad because back in the city, things would sell for twice as much. Your money really buys a lot more here, whether in independent retailers or townie bars." Regarding the latter, he says, "for $20 you and your friends can have a good time — drinks for everyone."
Pierce says he's also found goods at jewelry stores more affordable than in Chicago — "and you'll pay less tax."
A partial list of the businesses visitors will find in Northern Indiana downtowns includes coffee shops and diners, fine restaurants, record shops, ice cream parlors, antique and secondhand stores, vintage clothiers and more. A growing number of microbreweries also are cropping up across the area.
GETTING THERE
Northern Indiana downtowns are easy drives from the Chicago area; even the farthest are just slightly over two hours away.
Both Craig and Pierce suggest avoiding the Chicago Skyway and traveling on state and county roads when practical. Although visitors will spend a little extra time driving, they'll see much more beautiful countryside and arrive at their downtown destinations refreshed.
Pierce also advises that travelers be mindful of sunrise and sunset, since a poorly timed trip might force a motorist to stare directly into the sun both ways. At the very least, don't rush home, he says. "Stay for dinner, shop until the stores close and come home after the sun has set."
Driving in Northern Indiana can even be relaxing, Pierce says. "I could go on all day about the joy of being around drivers who don't incessantly honk at you and who let women and children cross the street without running them down."
No matter when you go, you'll find plenty going on every day in Northern Indiana downtowns. Here are some special events taking place this summer: