Cheers to the Region's Best Beers!
Posted on January 26, 2019 by Dina Miller
We encourage you to support our restaurants in Indiana's Cool North during the COVID-19 outbreak; but please call ahead to individual restaurants to see if they are open and ready to serve you.
Popularity Grows
The craft brewing industry is booming and it's no wonder. Craft beer aficionados simply love the diversity of flavor and camaraderie that goes with lifting that glass and extolling the virtues of their favorite craft brew or a unique new seasonal. Small craft brewing companies claim a larger share of the market each year, and Indiana plays a big part in that growth. The latest statistics compiled by the Brewers Association, a national organization that tracks craft brewing trends, showed that the Hoosier State ranked 15th among the 50 states for the number of craft breweries, with 181.
An article in The Atlantic magazine attributes much of the popularity to "fuller flavor, greater variety, and more intense support for local businesses." Local brewers couldn't agree more, and that's why they put so much thought and creativity into their product, one microbrew owner noted.
Take a look at some of the top breweries in Indiana's Cool North
Owners of craft breweries throughout the region are passionate about their frothy product and are excited to put their best brews forward. These brewers are a friendly, cohesive lot, sharing a love for their craft and a respect for each other.
Porter County
Four Fathers Brewing, Valparaiso
Hunter's Brewing, Chesterton
Ironwood Brewing Co., Valparaiso
Chesterton Brewery / Veterans Brewery for Veterans, Chesterton
Plat 35 Brewery, Porter
LaPorte County
Burn 'Em Brewery, Michigan City
Shoreline Brewery, Michigan City
Zorn Brew Works Co., Michigan City
St Joseph County
South Bend Brew Werks, South Bend
Crooked Ewe Brewery & Ale House, South Bend
Evil Czech Brewing and Public House, Mishawaka
Heavenly Goat Brewing Co., Granger
Studebaker Brewing Co., South Bend
Bare Hands Brewery, Granger
Elkhart County
Iechyd Da Brewing Company, Elkhart
Goshen Brewing Company, Goshen
Wedgewood Brewing Company, Middlebury
Ruhe 152, Nappanee
Best Seasonal Beer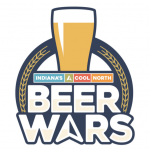 Find out who competed in Indiana's Cool North Best Seasonal Beer Wars, and who was declared the winner here