Cheers to the Region's Best Beers!
Posted on December 26, 2020 by Dina Miller
We encourage you to support our restaurants in Indiana's Cool North during the COVID-19 outbreak; but please call ahead to individual restaurants to see if they are open and ready to serve you.
Popularity Grows
The craft brewing industry is booming and it's no wonder. Craft beer aficionados simply love the diversity of flavor and camaraderie that goes with lifting that glass and extolling the virtues of their favorite craft brew or a unique new seasonal. Small craft brewing companies claim a larger share of the market each year, and Indiana plays a big part in that growth. The latest statistics compiled by the Brewers Association, a national organization that tracks craft brewing trends, showed that the Hoosier State ranked 16th among the 50 states for the number of craft breweries, with 192.
Take a look at some of the top breweries in Indiana's Cool North
Owners of craft breweries throughout the region are passionate about their frothy product and are excited to put their best brews forward. These brewers are a friendly, cohesive lot, sharing a love for their craft and a respect for each other.
Porter County
LaPorte County
St Joseph County
Elkhart County
Best Seasonal Beer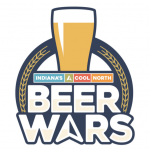 Find out who competed in Indiana's Cool North Best Seasonal Beer Wars, and who was declared the winner here