Local Produce. Faraway Flavors.
Posted on August 16, 2012 by Indiana's Cool North

The flavors of summer's backyard harvests come to life in home cooked meals.
But eating at some local restaurants, I'm also reminded of how local ingredients can take on faraway tastes at the hands of talented chefs. Chef Sarah Geary of Meditrina in Valparaiso can take a cucumber and make it taste like Greece by adding tasty yogurt dill dressing. Local cabbage goes Austrian when paired with schnitzel at the hands of chef Werner Moser at Moser's Austrian Cafe in New Carlisle.
Local Produce at Sahara
"We try to use as many local ingredients as possible when they're in season," says Moe Mroueh, owner and chef at at the former Sahara Restaurant in Michigan City. Sahara specialized in the Lebanese flavors of Moe's homeland. "We get our tomatoes, cucumbers and onions from local markets, and we're hoping to begin growing our own veggies and herbs soon," he says.
Sahara's cuisine is new to me, but Moe's servers are enthusiastic teachers. We tried the kibbe (a football-shape meatball), which has a great crunchy shell of cracked wheat and a soft meaty center of beef and onions. Yum! The falafel is a fried patty of chickpeas and tahini (sesame seed paste), deep-fried, yet not at all greasy and quite addicting. Most meals at Sahara include hummus, which Sahara makes by the bucket—up to 40 gallons a day, Moe says. "We don't serve all of it to our diners," he says explaining that some goes to local stores.
Try Moe's red pepper hummus using fresh local peppers, which you can pick up at your farmers market—or your back yard!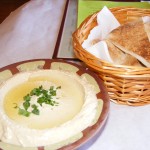 Sahara's Red Pepper Hummus
1 red sweet pepper
1 clove garlic, chopped
1 19-ounce can chickpeas (garbanzo beans), half the liquid reserved
4 tablespoons lemon juice
2 tablespoons tahini
1 teaspoon salt
Black pepper
Olive oil
Pita bread and/or veggies
Directions
Place a sweet pepper on a sheet of foil. Broil pepper until the skin chars, turning frequently. Wrap edges of foil up around pepper to let steam a few minutes. Peel and slice the charred pepper into small pieces. In a blender container, chop the garlic. Add garbanzo beans to blender, reserving about a tablespoon for garnish. Add lemon juice, tahini and salt. Blend until creamy and well mixed. Transfer mixture to a medium serving bowl. Top with the red pepper, sprinkle on black pepper, and pour olive oil over the top. Garnish with reserved garbanzo beans. Serve with pita bread or more (local!) veggies for dipping.
Freelance writer Kim Ranegar lives and works in Valparaiso and favors field-to-fork dining.