Microbreweries: Something Unique is Brewing in Northern Indiana
Posted on July 17, 2013 by Indiana's Cool North
There's something unique brewing in Northern Indiana — and it's worth visiting to taste it. Beer.
Not too long ago, beer aficionados had relatively few choices other than major national and regional brands and a handful of imports.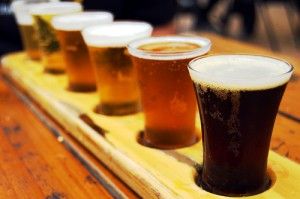 "When I turned 21 — and slightly before — our options were more limited," says Karl Klockars, co-creator of the popular website Guys Drinking Beer. Today, however, more and more retailers are likely to offer a seemingly endless flotilla of beers imported from around the world or around the block. One-of-a-kind offerings from craft brewers — many of which can be described as "microbreweries" — are a big part of this change.
"There's something about not drinking the same old thing when you're out with friends," says Evan Plier, a 44-year-old resident of Oak Forest, Ill., who makes frequent trips to Chesterton, Ind., to visit family and friends. "When I go out to dinner, I'd rather go to a microbrewery than a bar. The older I get, I find that I'm looking for something a little more involved than a couple of Miller Genuine Drafts."
Plier isn't the only who feels that way. Craft brewing burst onto the scene in the 1980s in a big way. Right now, the industry estimates there are more than 2,500 such breweries nationwide, and the number continues to grow.
"The initial explosion was partially inspired by legislative changes — the legalization of home brewing in 1978 and the reduction in excise tax for small brewers in 1976," explains Bart Watson, Ph.D., staff economist for the Brewers Association, which promotes and protects small and independent American brewers, their craft beers and the community of brewing enthusiasts.
More recent growth stems from consumers, Watson says. "(People) are increasingly seeking out more flavorful beers for more occasions, and, in addition, are more interested in supporting small, local businesses."
Unlike mass-produced beer, craft beers are created in smaller batches, often for on-site consumption in microbreweries and brewpubs. According to the Brewers Association, non-traditional ingredients are often added for distinctiveness. In addition to common enhancements such as nuts and fruits such as strawberry, orange, lemon and cherry, many surprises can await the craft brew enthusiast.
Generally known as "microbreweries," such operations are fueled not only by an increased interest in the amazing variety and complexity of beers — the association now defines 154 styles — but by the brews' compatibility with food.
"(There is) a whole lot of creativity among individual brewpubs, chefs and consumers in finding a ton of amazing new pairings between craft beer and food," Watson says.
Guys Drinking Beer's Klockars agrees. "People are paying attention to the restaurants where they eat, and to sourcing ingredients," he says. "They're no longing settling for mainstream choices and are skewing away from fast food and getting back to local offerings." And the beers at these places? "Better than what people have been used to drinking their entire lives," Klockars says.
Plier agrees, citing his new allegiance to what he calls "berry beers," those selections infused with subtle hints of blueberry, blackberry and other fruit.
"A bartender asked me what I liked and those were his suggestions. I'm hooked. I love recommended beers as much as I love recommended books," he says.
Just like wine, beer has subtleties that are endlessly debated. Unlike wine, however, those subtleties aren't necessarily based on geography.
"Regional differences are less important than the differences between individual (craft brewers)," Klockars explains. "The appeal for me in going to these places is seeing all the different things people can do. You can see the personal creativity from a handful of ingredients."
His conclusion: "It'll be a fun day trip, for sure."
Looking for some great microbrews in Northern Indiana? Check out the following establishments:
Iechyd Da Brewing Company
Where: 317 N. Main St., Elkhart, Indiana
In Welsh, "iechyd da" is a toast that means "good health" and is pronounced "yah-key-dah." This brewpub offers handcrafted ales, lagers, pizzas, sandwiches and soda. Iechyd Da makes all of the beer and as much of the food as its staff can muster in-house. Recent brews included TataRosa Raz Weisse, Local Blonde, 1635 English Mild, Cantankerous Irish Red, Murray the Hump Pale, Afternoon Delight Rye IPA, Big Pit Porter, Revolution Am. IPA, 13 American Black and Root Beer.
Shoreline Brewery and Restaurant
Where: 208 Wabash St., Michigan City, Indiana
Twelve beers are always on tap, including the World Beer Cup Award-winning Beltane Scottish Ale and Singing Sands Oatmeal Stout, along with seasonal beers such as Bavarian Bombshell Black Lager and the Barrel Aged Imperial Stout Lost Sailor. Chef Barry Smith has an extensive culinary background, having been educated in French cuisine and classically trained by a Parisian chef.
Evil Czech Brewery
Where: 3703 N. Main Street, Mishawaka, IN
3703 N. Main Street, Mishawaka, IndianaSeasonal offerings include 7 AM Oatmeal Milk Stout ("It's not just for breakfast anymore"), Blonde Czich, Bobblehead, Menage a Trois, Rasta's Smokey Esspress and The White Reaper. Year-round brews include Chucky, Dracula's Bite, Gypsy, John the One Eyed, Lucky Dog, Rooster and Voodoo. Try the limited-release true Russian imperial stout aged for three months in whiskey barrels from Journeyman's Distillery in Three Oaks, Mich.