The Best Food Festivals in Northern Indiana
Posted on March 6, 2018 by Indiana's Cool North
Food lovers rejoice! Indiana's Cool North boasts some seriously unique (and delicious) food festivals. From events that are as wholesome as apple pie to festivals that make carnivores weak in the knees, there are a host of fun, food-themed festivals to choose from. Come to one, or come to them all, we guarantee you won't go home hungry.
Taste of the Gardens
Where: Amish Country/Elkhart County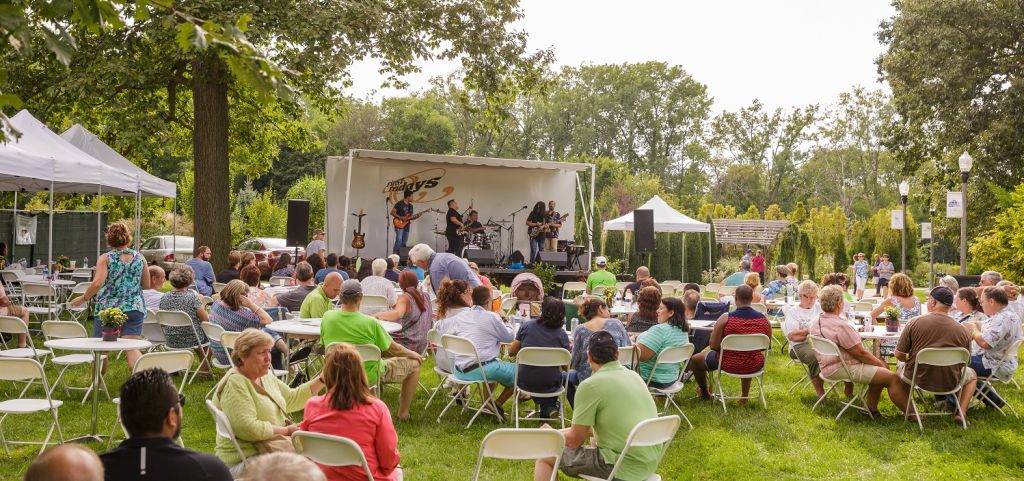 Enjoy nature's bounty at the Taste of the Gardens event at the Wellfield Botanic Gardens in Amish Country. Stroll through the stunning gardens and take in fine art from regional artists. Local musicians fill the air with sweet sounds, and of course there's plenty of delicious food to go around. Local restaurants from around the region feature their best-sellers, and try out exiting and tasty new treats. It wouldn't be out of place to find Irish mac and cheese, Sriracha chicken sandwiches and Korean BBQ pork shoulder on the menu. At Taste of the Gardens, there's something to please every palate.
Kouts Porkfest
Where: Indiana Dunes
For 40 years, the town of Kouts in Porter County has been going hog wild over Porkfest. This festival marks the beginning of the fall season, and the one-day event packs in tons of fun for the whole family. Start the morning with 5K walk/run and work up an appetite to enjoy all of the festival foods. You'll find all of your fair favorites like corn dogs and funnel cakes, and you can't leave without trying the famous pork burger. If you're really hungry, try your hand (and stomach) at the pork burger eating contest. There's also lots of live entertainment, a 'Guess the Weight of the Pig' contest, games for kids, and even a parade.
Nappanee Apple Festival
Where: Amish Country/Elkhart County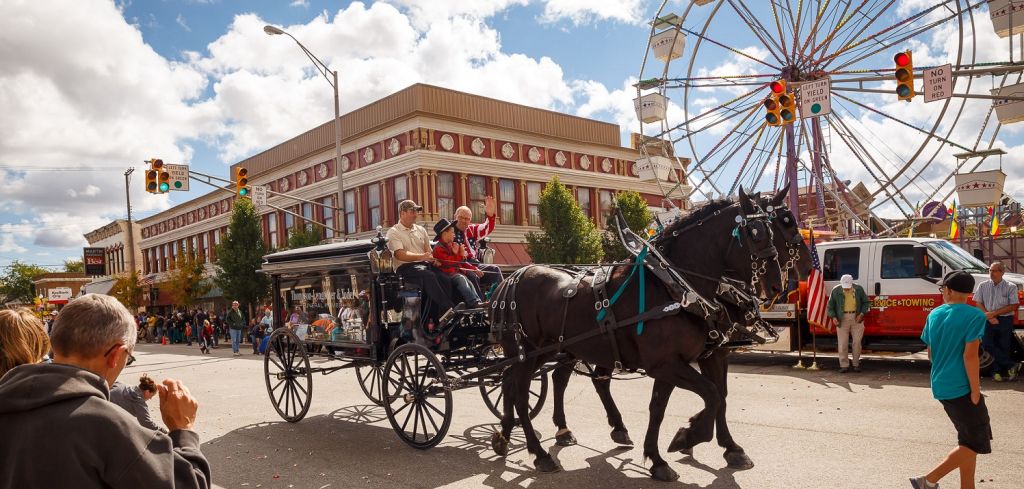 Apples abound at the Nappanee Apple Festival. This family-friendly, four-day event features Indiana's largest baked apple pie, coming in at over 7 feet wide! Have a blast playing fair games and going on the carnival rides. Bring a chair or blanket and settle in to watch the parade, which usually features a military fly-over. Test your skills at the popular cornhole tournament, and see who will become this year's Miss Apple Blossom at the pageant. Bushels of apples go into all of the delicious festival treats including apple fritters, apple dumplings, applesauce, and apple cider.
Michiana Greek Festival
Where: South Bend Mishawaka
Be transported to Greece for a day, by attending the Michiana Greek Festival, held at the St. Andrew Greek Orthodox Church in South Bend. This three-day festival is a feast for the senses. Watch traditional Greek dancing and view cultural exhibits, tour the church and most importantly, feast on authentic Greek dishes, including gyros, dolmades (stuffed grape leaves), spanakopita, baklava, and more. Opa!
Valparaiso Popcorn Festival
Where: Indiana Dunes
Pop pop! For almost 40 years, the Valparaiso Popcorn Festival has delighted children of all ages. You'll find all kinds of popcorn varieties and flavors available, from salty to sweet, sour to savory. While there's tons of popcorn to be had, this festival is anything but corny, with over 250 booths filled with arts and crafts, and kid's games. Join the Popcorn Panic run, enjoy two stages offering live music and find a spot to watch the Popcorn Parade.
Marshall Co. Blueberry Festival
Where: Marshall County
Get your fill of fruit at this 'berry' popular four-day festival, attracting over 20,000 spectators from all around the state and beyond. Dozens of performers will keep you entertained, and the parade is always a highlight, featuring classic cars, floats galore and over 100 different entries. For those looking for a little physical activity, you can run in the Blueberry Stomp Race, or join in one of the other sporting events and tournaments taking place during the festival. Watch the pageant and see who is crowned Miss Blueberry.
Kids love all of the fun carnival rides, and the fireworks show is sure to impress the whole family. And the food? Oh the food! Feast on blueberry pie, blueberry shortcake, blueberry ice cream and more. And of course, there are lots of yummy treats that don't involve blueberries, like beef tacos, corndogs, and pulled pork. You name it, you'll find it at the Marshall County Blueberry Festival.
Sugar Camp Days
Where: South Bend Mishawaka
Indulge in a taste of the sweet life with Sugar Camp Days, at the Bendix Woods Country Park. Since syrup is one of Buddy the Elf's main food groups, we bet he wouldn't want to miss this sweet event featuring a pancake and sausage breakfast served with plenty of pure maple syrup. You can also take home lots of fresh baked goods made with the sticky stuff, and kids will enjoy watching and learning how tree sap is turned into syrup.
These food festivals will fuel your stomach and fill your soul. Explore our Things to Do page to find more fun events, food-related and otherwise, in Indiana's Cool North.