The Pizza is Life Changing
Posted on October 19, 2012 by Indiana's Cool North
Congratulations to Venturi in Goshen, a destination on the Northern Indiana Foodie Trail, for making Esquire Magazine's list of the Most life-changing pizzerias in America! Read the official release below for more info about Venturi and its fabulous pizzas.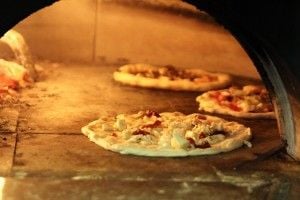 GOSHEN, Ind. — Esquire Magazine today announced the results of its online reader poll of the "Most life-changing pizzeria in America." Venturi made the top 15, accompanying pizzerias from New York City to Chicago to San Francisco. Pizzaiolo Justin Venturi opened the restaurant in January 2011. "Our pizza is a product of passion grown from the tradition that started in Naples over 150 years ago. From the raw ingredients we import from Naples to every portion of dough that we form, turn and cook by hand – this is the original pizza. It's an awesome validation of our passion and craftsmanship to be voted in the top 15 in the country by Esquire readers."
Pizzaiolo Venturi taught himself the art of pizza-making after studying at the Culinary Institute of America in Hyde Park, NY, and externing at Felidia's, one of the top 8 Italian restaurants in New York City, according to Zagat's 2011 New York City Restaurants Survey. "We import the highest quality ingredients made by people with the same passion for Neapolitan pizza. It's not about mechanization or efficiency – it's about the integrity that comes from using our hands to craft our food, including our dough, sauce, breads, mozzarella and desserts from scratch every day."
Venturi is the only pizzeria in Indiana, Michigan or Ohio to be certified Vera Pizza Napoletana (VPN). A non-profit based in Naples, Italy, VPN is the only association that safeguards and promotes the culture of the real Neapolitan pizza worldwide. Its mission is to promote and protect worldwide the "true Neapolitan pizza" ("verace pizza napoletana"), i.e. the typical product made in accordance with the characteristics described in the International Regulations for obtaining a collective brand mark "True Neapolitan Pizza" ("Vera Pizza Napoletana"), in force since 1984, edited and registered by AVPN.
Besides its certified pizzas, Venturi serves 11 other pizzas and additional seasonal specials as different toppings come into season. Its desserts, all homemade from scratch, include panna cotta and tiramisu. Venturi also features seasonal salads and beer, wine and liquor.
Venturi is open Tuesday through Saturday 5-10 pm EST for dinner and Wednesday through Friday 11:30-1:30 EST for lunch.
Venturi developed its own unique iPhone ordering application to help servers ensure that pizzas arrive at the table as quickly as possible.