A Walk Along the Race
Posted on October 25, 2012 by Indiana's Cool North

Fall is a great time to explore new neighborhoods. I recently zipped up my jacket for a pedestrian adventure along the East Race Waterway of South Bend. Created in the 1840s, the Race consists of narrow channels along the St. Joseph River, harnessing waterpower for surrounding industries. Today, that flow makes it possible to enjoy whitewater rafting along Niles Avenue in the summer. "We don't really have whitewater rafting in the Midwest, so people get really excited to see this in the heart of South Bend," says Paul McMinn, assistant recreation director for South Bend's Parks and Recreation Department.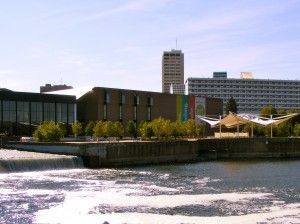 Though the rafting is closed for the season, I enjoy watching the raging water from the 5-mile long walking path that begins at Seitz Park (118 N. St. Joseph St.). You can look across the water to Century Center and downtown, just steps from the East Bank Village. The village centerpiece is the Emporium Restaurant, a sunny wood paneled eatery with sassy brass accents. On warm days, eat lunch or dinner under umbrellas on its great outdoor patio. Go as light as a salad and wrap or as elaborate as filet mignon and lobster tail.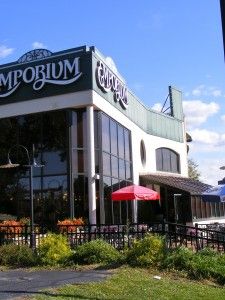 Outside the Emporium, a sign states you can burn about 180 calories by trekking 1.8 miles to the Memorial Park Boat Launch. I'm glad I skipped the bread! It's a pretty stroll, through Howard Park, South Bend's oldest park, and on through tree-lined neighborhoods.
I love the pathways in South Bend and that Seitz Park is so close to downtown. Beyond the park (at 214 Niles Ave), I'm delighted to find Macri's Bakery and Carmela's Italian bistro; one family owns both eateries, which share a building. George Macri tells me his family has owned the place for 16 years. So in one location, you can feast on Carmela's delicious pastries (her butter cream is legendary), shop at the deli of fresh foods, sit down to a traditional Italian meal, or make a purchase from the shelves of specialty foods and wines. They offer an excellent selection of olive oils, vinegars and dried pastas—ingredients for the perfect meal after a brisk autumn walk.
Kim Ranegar is a freelance writer from Valparaiso who enjoys dining as much as walking.