Top 10 Health & Wellness Tips to begin the New Year
Posted on January 10, 2023 by Dina Miller
We are beginning a new year, and health and wellness are at the top of our lists as we think about changes we want to initiate this year.  Our Top 10 list includes fitness and exercise, spas, floats, salt therapy and other skin and facial treatments.  There's even a place for yummy nutritious dining.
Ivy's Bohemia House - Voted Best Outdoor Dining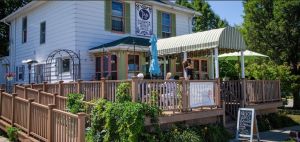 The owners of Ivy's Bohemia House have created food and an atmosphere that locals love.  There are two outdoor dining patios where you can dine under the umbrellas or the magical outdoor lights.  The polish sausage recipes have been handed down for generations, and there are meatless options created by the vegetarian owner.  Locals love how the owners make you feel special.    Of course you can dine indoors any time of the year.