Top 10 Health & Wellness Tips to begin the New Year
Posted on January 10, 2023 by Dina Miller
We are beginning a new year, and health and wellness are at the top of our lists as we think about changes we want to initiate this year.  Our Top 10 list includes fitness and exercise, spas, floats, salt therapy and other skin and facial treatments.  There's even a place for yummy nutritious dining.
Kelsey's Steakhouse - A Refined steak and seafood experience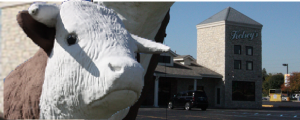 Soak in a world-class steakhouse experience in Valparaiso. Serving up fresh cuts of premium beef and succulent seafood, Kelsey's offers a relaxing atmosphere and inviting bar area. This little corner of food heaven is easy to spot—you can't miss the giant cow statue outside!
Get a little adventurous with escargot baked in garlic butter, or try some local seafood favorites like lake perch or wild-caught walleye. And the steaks? They're second to none. From fork-tender filet mignon to mouthwatering prime rib, every dish is sure to satisfy. For really big appetites, take the six pound steak challenge for you shot at their wall of fame.