Top 10 Health & Wellness Tips to begin the New Year
Posted on January 10, 2023 by Dina Miller
We are beginning a new year, and health and wellness are at the top of our lists as we think about changes we want to initiate this year.  Our Top 10 list includes fitness and exercise, spas, floats, salt therapy and other skin and facial treatments.  There's even a place for yummy nutritious dining.
Miller Pizza Company - Chicago-Style Pizza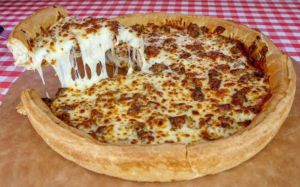 The Chicago-style pizza has been a favorite since 1985, when a father and son opened the establishment in order to share  with Northwest Indiana the pizza they grew up with in the Chicago suburbs.
Miller Pizza is still family owned today, using their hand-made dough and pizza sauce, along with the Italian Beef they prepare daily, seasoned, cooked and sliced in house.