Top 10 Health & Wellness Tips to begin the New Year
Posted on January 10, 2023 by Dina Miller
We are beginning a new year, and health and wellness are at the top of our lists as we think about changes we want to initiate this year.  Our Top 10 list includes fitness and exercise, spas, floats, salt therapy and other skin and facial treatments.  There's even a place for yummy nutritious dining.
Pierogi Fest ® - A Celebration of the Stuffed Dumpling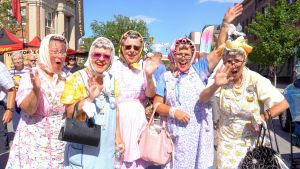 Whiting residents celebrate their heritage, including the pierogi, while poking fun at themselves.  A highlight is the parade featuring the lawn mower brigade (wearing socks and sandals) and the women (babushkas) dressed in housecoats and curlers, along with Mr. Pierogi and Ms. Paczki.  The parade and festival have shown up on the Food Network and the Travel Channel, so you know it's going to be a great time!