Top 10 Health & Wellness Tips to begin the New Year
Posted on January 10, 2023 by Dina Miller
We are beginning a new year, and health and wellness are at the top of our lists as we think about changes we want to initiate this year.  Our Top 10 list includes fitness and exercise, spas, floats, salt therapy and other skin and facial treatments.  There's even a place for yummy nutritious dining.
The Blue Heron Inn - Peace and Serenity on Pine Lake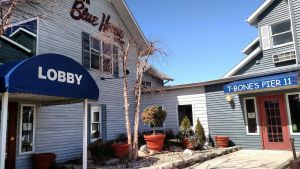 Enjoy the peace and tranquility of the historic Blue Heron Inn on Pine Lake in LaPorte.  Eight beautiful rooms are available, with different features and views of the lake, the pool or the park.  Some rooms include fireplaces and spa tubs. The exception service and experiences is what makes the Blue Heron stand out!
When you are ready to dine, you won't need to go far. The T-Bones Pier 11 is a classic steak house on site, serving seafood, pasta and steaks.   The Boardwalk Beach Bar and Grill is also available seasonally on the platform overlooking Pine Lake.  They servc margaritas, beers on tap, and a little menu.