Top 10 Holiday Events in Indiana's Cool North
Posted on November 15, 2022 by Dina Miller
Tis the season, and Indiana's Cool North can deliver the festive events for celebrating the season!  There are magnificent light displays, and you can choose a drive-through or a stroll on foot.  Hometown celebrations that include Santa parades, special shopping events,  a Christkindlmarkt, and even a Christmas musical are on tap.  See the Top 10 events we suggest for your holiday season!
Designer Desserts - Live Life One Cupcake at a Time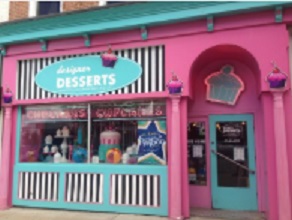 Need to satisfy your sweet tooth? Look no further than Designer Desserts in Valparaiso! Owner Adam Wiltfang creates incredible cupcake concoctions like root beer float, holy cannoli, green tea and honey, and dozens more. With splashes of electric pink and turquoise and exposed brick walls, this a stylish space to savor some sweet treats.