Top 10 Holiday Events in Indiana's Cool North
Posted on November 15, 2022 by Dina Miller
Tis the season, and Indiana's Cool North can deliver the festive events for celebrating the season!  There are magnificent light displays, and you can choose a drive-through or a stroll on foot.  Hometown celebrations that include Santa parades, special shopping events,  a Christkindlmarkt, and even a Christmas musical are on tap.  See the Top 10 events we suggest for your holiday season!
Coppes Commons — History and Specialty Shops Merge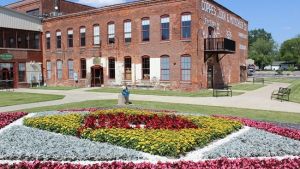 This historic attraction was originally the factory for a leading manufacturer of the famous "Hoosier Cabinet" at the turn of the century.  The rambling brick building now houses a variety of specialty shops offering locally-made, handcrafted and freshly-baked items. Visit the cabinet museum to get a glimpse of the history of the Coppes Kitchens.  Watch ice-cream treats freeze before your eyes with liquid nitrogen; sample 50 flavors of gourmet popcorn; buy fresh baked goods, cheeses, hot BBQ and bulk foods; or search for treasure in the antique mall.