Top 10 Holiday Events in Indiana's Cool North
Posted on November 15, 2022 by Dina Miller
Tis the season, and Indiana's Cool North can deliver the festive events for celebrating the season!  There are magnificent light displays, and you can choose a drive-through or a stroll on foot.  Hometown celebrations that include Santa parades, special shopping events,  a Christkindlmarkt, and even a Christmas musical are on tap.  See the Top 10 events we suggest for your holiday season!
Downtown Goshen – Energetic, Eclectic, Exciting.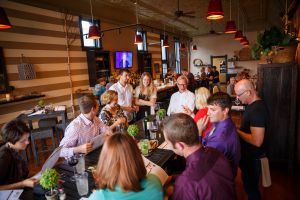 If you're searching for excitement in Indiana's Cool North, look no further than the bustling town of Goshen. The downtown scene is thriving and simply begs to be explored. Between the burgeoning arts scene, historic architecture, and intriguing places to eat and shop, there's always something new to see.
Foodies rejoice! The culinary scene in downtown Goshen ranges from vegetarian to fusion, homemade chocolates to organic produce, and crispy wood fired-pizzas to flaky pastries. Start your day with a cup of freshly roasted coffee and finish it with a glass of local wine. And, with over 29 downtown festival days and themed events free to the public, there's plenty of opportunity for people to discover Goshen's eclectic vibe.