Top 10 Holiday Events in Indiana's Cool North
Posted on November 15, 2022 by Dina Miller
Tis the season, and Indiana's Cool North can deliver the festive events for celebrating the season!  There are magnificent light displays, and you can choose a drive-through or a stroll on foot.  Hometown celebrations that include Santa parades, special shopping events,  a Christkindlmarkt, and even a Christmas musical are on tap.  See the Top 10 events we suggest for your holiday season!
Leeds Public House - A Gastropub with a history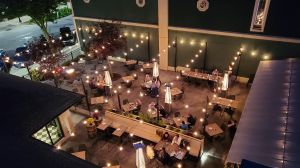 In the 1837 frontier days you went to the Leeds Building when you needed a hospital; it was the first one in the area, built by Daniel Leeds.  It was rebuilt in 1903 and is now part of Michigan City's Historic District,  and completely renovated recently into the welcoming, modern gastropub it is today.  It features indoor and outdoor bars and a patio, complete with a fire pit for the outside dining.  The menu features locally sourced ingredients and 14 beers on tap.  Come, relax, share a meal together!