Top 10 Holiday Lights in Indiana's Cool North
Posted on December 12, 2022 by Dina Miller
You don't need to travel far in northern Indiana to find a really cool holiday light display!  Do you prefer staying in your car for a drive-thru?  Or would you rather get out and walk through a wonderland of lights? And Downtown lights offer both options -- drive around to view the lights or get out and take a leisurely stroll! See our Top 10 list to find your favorite lights.
3 Dunes Challenge - Test Yourself on the 3 Tallest Dunes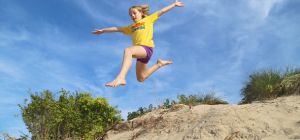 Up for a test of your outdoor strength? Take "The 3 Dune Challenge," a tough trek running or hiking a 1.5-mile course on the State Park's three tallest dunes. Most climbers find the steep, sandy slopes take them backwards as often as forward.   Some may scoff at the short distance, but as anyone who has ever run on dunes before can attest, it's a challenge like no other. After all, sand-sprinting was difficult enough to be included in a Rocky training montage, so you know it's gotta be tough.