Top 10 Holiday Lights in Indiana's Cool North
Posted on December 12, 2022 by Dina Miller
You don't need to travel far in northern Indiana to find a really cool holiday light display!  Do you prefer staying in your car for a drive-thru?  Or would you rather get out and walk through a wonderland of lights? And Downtown lights offer both options -- drive around to view the lights or get out and take a leisurely stroll! See our Top 10 list to find your favorite lights.
Designer Desserts - Live Life One Cupcake at a Time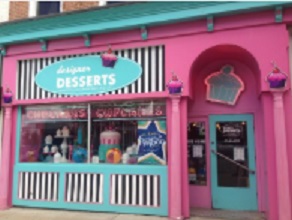 Need to satisfy your sweet tooth? Look no further than Designer Desserts in Valparaiso! Owner Adam Wiltfang creates incredible cupcake concoctions like root beer float, holy cannoli, green tea and honey, and dozens more. With splashes of electric pink and turquoise and exposed brick walls, this a stylish space to savor some sweet treats.