Top 10 Holiday Lights in Indiana's Cool North
Posted on December 12, 2022 by Dina Miller
You don't need to travel far in northern Indiana to find a really cool holiday light display!  Do you prefer staying in your car for a drive-thru?  Or would you rather get out and walk through a wonderland of lights? And Downtown lights offer both options -- drive around to view the lights or get out and take a leisurely stroll! See our Top 10 list to find your favorite lights.
Coppes Commons — History and Specialty Shops Merge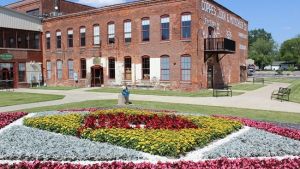 This historic attraction was originally the factory for a leading manufacturer of the famous "Hoosier Cabinet" at the turn of the century.  The rambling brick building now houses a variety of specialty shops offering locally-made, handcrafted and freshly-baked items. Visit the cabinet museum to get a glimpse of the history of the Coppes Kitchens.  Watch ice-cream treats freeze before your eyes with liquid nitrogen; sample 50 flavors of gourmet popcorn; buy fresh baked goods, cheeses, hot BBQ and bulk foods; or search for treasure in the antique mall.