Top 10 Holiday Lights in Indiana's Cool North
Posted on December 12, 2022 by Dina Miller
You don't need to travel far in northern Indiana to find a really cool holiday light display!  Do you prefer staying in your car for a drive-thru?  Or would you rather get out and walk through a wonderland of lights? And Downtown lights offer both options -- drive around to view the lights or get out and take a leisurely stroll! See our Top 10 list to find your favorite lights.
Shoreline Brewery and Restaurant - A Longstanding Brewpub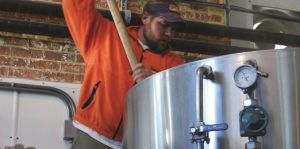 These brew artisans are always conjuring up something classy right here in Northern Indiana and all beers made on the premises. You can't resist a sample of their new barrel-aged series – beers aged in bourbon and rye barrels for a year with intriguing names like Lost Sailor, Curse the Goat and Discombobulation Celebration Ale. But what's a fine brew without delicious food to go along? You'll find everything from beer-battered fish to toney entrees such as chicken breast stuffed with spinach, artichokes and feta cheese finished with a mushroom-brandy sauce.