Top 10 Holiday Lights in Indiana's Cool North
Posted on December 12, 2022 by Dina Miller
You don't need to travel far in northern Indiana to find a really cool holiday light display!  Do you prefer staying in your car for a drive-thru?  Or would you rather get out and walk through a wonderland of lights? And Downtown lights offer both options -- drive around to view the lights or get out and take a leisurely stroll! See our Top 10 list to find your favorite lights.
Leeds Public House - A Gastropub with a history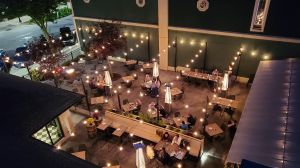 In the 1837 frontier days you went to the Leeds Building when you needed a hospital; it was the first one in the area, built by Daniel Leeds.  It was rebuilt in 1903 and is now part of Michigan City's Historic District,  and completely renovated recently into the welcoming, modern gastropub it is today.  It features indoor and outdoor bars and a patio, complete with a fire pit for the outside dining.  The menu features locally sourced ingredients and 14 beers on tap.  Come, relax, share a meal together!