Top 10 Holiday Lights in Indiana's Cool North
Posted on December 12, 2022 by Dina Miller
You don't need to travel far in northern Indiana to find a really cool holiday light display!  Do you prefer staying in your car for a drive-thru?  Or would you rather get out and walk through a wonderland of lights? And Downtown lights offer both options -- drive around to view the lights or get out and take a leisurely stroll! See our Top 10 list to find your favorite lights.
Miller Pizza Company - Chicago-Style Pizza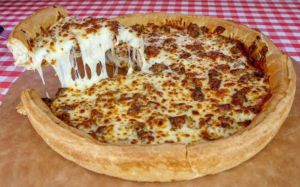 The Chicago-style pizza has been a favorite since 1985, when a father and son opened the establishment in order to share  with Northwest Indiana the pizza they grew up with in the Chicago suburbs.
Miller Pizza is still family owned today, using their hand-made dough and pizza sauce, along with the Italian Beef they prepare daily, seasoned, cooked and sliced in house.