Top 10 Holiday Lights in Indiana's Cool North
Posted on December 12, 2022 by Dina Miller
You don't need to travel far in northern Indiana to find a really cool holiday light display!  Do you prefer staying in your car for a drive-thru?  Or would you rather get out and walk through a wonderland of lights? And Downtown lights offer both options -- drive around to view the lights or get out and take a leisurely stroll! See our Top 10 list to find your favorite lights.
Octave Grill - A Unique Dining Experience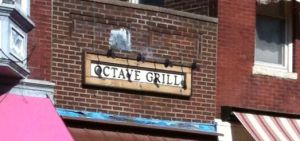 Located in the heart of downtown, Octave Grill offers creative burgers and homemade desserts in a kitschy setting. The grass-fed beef burgers come on soft brioche buns. Toppings are from local producers, such as Havarti cheese from Fair Oaks Farms, and Saturday morning purveyors at Chesterton's European Market. Area artists' works adorn brick walls.