Top 10 Holiday Lights in Indiana's Cool North
Posted on December 12, 2022 by Dina Miller
You don't need to travel far in northern Indiana to find a really cool holiday light display!  Do you prefer staying in your car for a drive-thru?  Or would you rather get out and walk through a wonderland of lights? And Downtown lights offer both options -- drive around to view the lights or get out and take a leisurely stroll! See our Top 10 list to find your favorite lights.
Pierogi Fest ® - A Celebration of the Stuffed Dumpling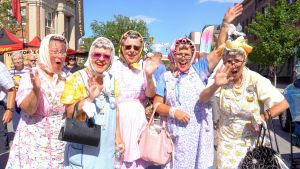 Whiting residents celebrate their heritage, including the pierogi, while poking fun at themselves.  A highlight is the parade featuring the lawn mower brigade (wearing socks and sandals) and the women (babushkas) dressed in housecoats and curlers, along with Mr. Pierogi and Ms. Paczki.  The parade and festival have shown up on the Food Network and the Travel Channel, so you know it's going to be a great time!