Top 10 Big Events for 2022 in Indiana's Cool North
Posted on March 31, 2022 by Dina Miller
Indiana's Cool North has some big events; you know the ones you look forward to every year, and don't want to miss.  To help you plan ahead, and get them on your calendar, we've made a list of our Top 10 biggest events.  Everything from the county fairs to the biggest festivals and those weekly markets that draw huge crowds.
3 Dunes Challenge - Test yourself on the 3 tallest dunes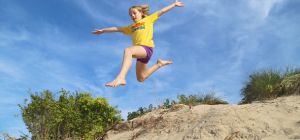 Up for a test of your outdoor strength? Take "The 3 Dune Challenge," a tough trek running or hiking a 1.5-mile course on the State Park's three tallest dunes. Most climbers find the steep, sandy slopes take them backwards as often as forward.   Some may scoff at the short distance, but as anyone who has ever run on dunes before can attest, it's a challenge like no other. After all, sand-sprinting was difficult enough to be included in a Rocky training montage, so you know it's gotta be tough.