Top 10 Big Events for 2022 in Indiana's Cool North
Posted on March 31, 2022 by Dina Miller
Indiana's Cool North has some big events; you know the ones you look forward to every year, and don't want to miss.  To help you plan ahead, and get them on your calendar, we've made a list of our Top 10 biggest events.  Everything from the county fairs to the biggest festivals and those weekly markets that draw huge crowds.
Downtown Goshen – Energetic, Eclectic, Exciting.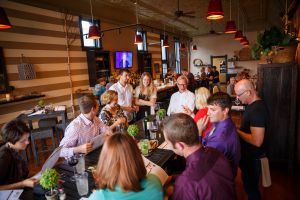 If you're searching for excitement in Indiana's Cool North, look no further than the bustling town of Goshen. The downtown scene is thriving and simply begs to be explored. Between the burgeoning arts scene, historic architecture, and intriguing places to eat and shop, there's always something new to see.
Foodies rejoice! The culinary scene in downtown Goshen ranges from vegetarian to fusion, homemade chocolates to organic produce, and crispy wood fired-pizzas to flaky pastries. Start your day with a cup of freshly roasted coffee and finish it with a glass of local wine. And, with over 29 downtown festival days and themed events free to the public, there's plenty of opportunity for people to discover Goshen's eclectic vibe.